Haikara-san Anime Film Reveals English Dub Cast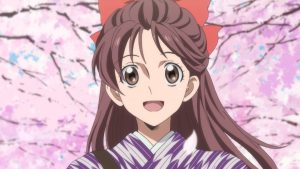 Based on the best-selling manga by Waki Yamato, Haikara-san: Here Comes Miss Modern makes its U.S. theatrical debut on June 8. We won't have to wait until then to find out who will be providing the English dub voices, though, because ELEVEN ARTS Anime Studio came through with a cast list.
Voices behind the principal characters include:
Benio Hanamura: Mimi Torres
Sleeping Dogs (Ilyana)
Fallout 4 (Kasumi Nakano)
Shinobu Ijuin: Robbie Daymond
A Silent Voice (Shoya)
Sword Art Online (Dr. Kurahashi)
Digimon Adventure Tri. 5 (Joe Kido)
Tosei Aoe: Keith Silverstein
Overwatch (Torbjorn)
Persona 5 (Shido)
Fate/Apocrypha (Red Caster "William Shakespeare")
Shingo Onijima: Kirk Thornton
Naruto (Kisame, Tazuna)
Samurai Champloo (Jin)
Tamaki Kitakoji: Cristina Vee
Sailor Moon (Sailor Mars)
Tiger and Bunny The Rising (Kasha Graham)
Madoka Magica: Rebellion (Homura Akemi)
Haikara-san: Here Comes Miss Modern is directed and written by Kazuhiro Furuhashi (Mobile Suit Gundam Unicorn), with character design by Terumi Nishii (JoJo's Bizarre Adventure: Diamond is Unbreakable) and animation production by Nippon Animation.
Synopsis:
During the Taisho era of 1918, 17-year-old Benio Hanamura thrives on bucking tradition. As a boisterous and quarrelsome tomboy, Miss Hanamura leads a life of kendo and tree-climbing adventure with her best friends Tamaki and Ranmaru. Benio determines to find love on her own, though her family has other plans. Benio will encounter tests of love, independence, and friendship during wartime.
Speaking of Haikara-san, don't forget to enter to win a signed poster!