Godzilla Was an Anime Star Long Before He Came to Netflix
Right now, Godzilla rules over on Netflix! The big lizard is back in action in Godzilla Singular Point, following up on a series of anime films for the streaming service. But he's been showing up in anime outside Netflix — and before Netflix!
If you're done with Singular Point and want to see more of your favorite kaiju, check out his appearances in these other series. Where else have you spotted him?
As "Gomera" in Case Closed
Our first entry isn't an exact Godzilla appearance, but it's so close that we can't leave it out.
Long-running detective series Case Closed (known in Japan as Detective Conan) has a lot of looks-in from pop culture characters. One of the most enduring ones is "Gomera," a movie kaiju who's a fairly obvious mash-up of Godzilla and Gamera. The character has even figured into multiple cases, including a four-parter from last year titled "Kaiju Gomera vs. Kamen Yaiba."
Across Dimensions in the Shinkalion Film
Sliding in between Godzilla's two Netflix outings was Shinkalion, a kids' mecha series about transforming passenger trains. The series gained notoriety for its Evangelion crossover episode and inclusion of Hatsune Miku (yes, actual Hatsune Miku) as a minor character. The digital songstress returned for the franchise's first film, and she kicked things off with a bang. Because the movie begins with her fighting Godzilla. Yes, actual Godzilla.
The opening battle pits Miku in her mecha against Snow Godzilla, a new design for the kaiju based on his Heisei era look. He pops up several times during the films' dimension-crossing storyline. But in the end, both he and Shinji Ikari get to return to their home dimensions…. Yes, actual Shinji Ikari.
Inside Akira Toriyama's Head at All Times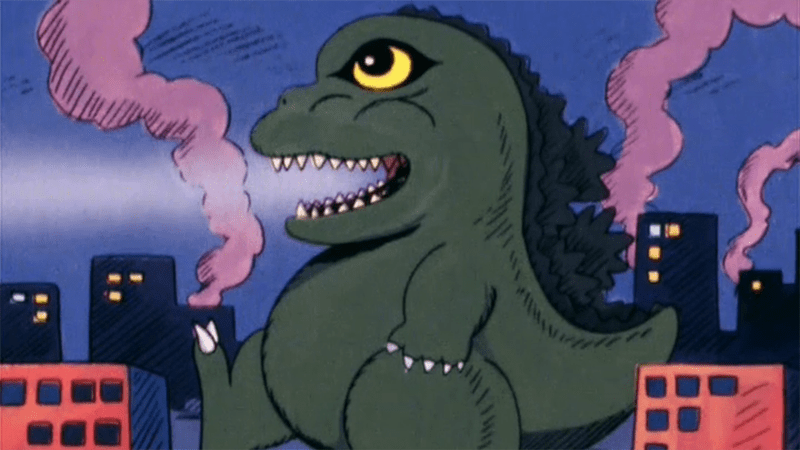 You know who really likes Godzilla? Akira Toriyama. The Dragon Ball and Dr. Slump creator loves the big lizard so much, you've got a good chance of running into him accidentally in the creator's manga.
Sometimes it's an offhanded mention — like characters blaming Godzilla for in-universe deaths. Other times, you'll see him actually appear on the page. There's also a lizard named after Godzilla in Dr. Slump.
Also, in case you're wondering… according to the Dragon Ball Wiki, which keeps track of such things, Godzilla's power level is over 180.
As Japan's most formidable kaiju, Godzilla has naturally gotten a lot of love in all media. Can you think of other places you've seen him in anime?