GOBLIN SLAYER Author Launches New Moscow 2160 Manga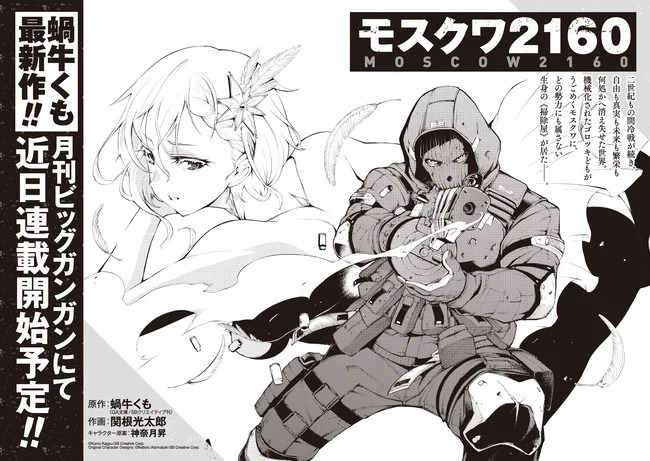 While we wait for more of the GOBLIN SLAYER anime to take over our screens, original author Kumo Kagyu has a new title in the works. According to an announcement on the official Twitter account for Square Enix's Big Gangan magazine, Kagyu is gearing up to launch a new manga called Moscow 2160, featuring art by Kotaro Sekine (Ninja Slayer Kills) and character designs by Goblin Slayer illustrator Noboru Kannatsuki. 
The story follows a "cleaner" who works amidst a conspiracy-filled world of mechanized rogues, in which the Cold War has been ongoing for two centuries. Other than that, we just have the above announcement image to go on for the title. 
Kumo Kagyu's Goblin Slayer novels first kicked off back in February 2016, and Kosuke Kurose started a manga adaptation in May of the same year. Both are currently being released through Yen Press, which describes the series like so: 
A young priestess has formed her first adventuring party, but almost immediately they find themselves in distress. It's the Goblin Slayer who comes to their rescue–a man who's dedicated his life to the extermination of all goblins, by any means necessary. And when rumors of his feats begin to circulate, there's no telling who might come calling next…