GAINAX: Beyond Evangelion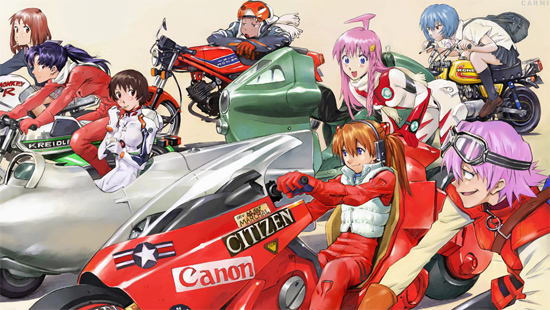 Gainax is a familiar name, perhaps even a hallowed one. In the otaku realm, it's a household name, in fact. It's the studio that spawned such greats as Neon Genesis Evangelion and FLCL; its name became synonymous with over-the-top animation, cerebral giant robot sagas, and some of the craziest adventures known to the world of Japanese animation.
But unbeknownst to a large segment of fans, Gainax is so much more than "that wacky anime studio." It is responsible for a menagerie of different types of animation, stories, and more that go beyond the scope of what it's so well known for, and as more and more viewers join the legions of anime fans around the world, they'll stumble on the rest of what Gainax has wrought. For the uninitiated, here's what to expect from Gainax … beyond Evangelion.
Humble Beginnings
Gainax was founded in the early 1980s, though it went under Daicon Film back then, by Hideaki Anno, Yoshiyuki Sadamoto, Hiroyuki Yamaga, Takami Akai, Toshio Okada, Yasuhiro Takeda, and Shinji Higuchi. After submitting their first project, a short film for the 20th Annual Japan National SF Convention, they made a splash with shorts about a girl in a bunny suit fighting off various anime characters and different pop culture figures. After establishing itself as a force to be reckoned with in the animation scene, Daicon Film rebranded itself as Gainax and set out to create engaging animation with a string budget of about 20 million yen, or about $200,000. After setting up shop, it was time to get down to business, which the fledgling studio did with aplomb.
Gainax got to work on its very first commercial product, known as Royal Space Force: The Wings of Honneamise, which made its way to audiences in 1987. It was by all accounts a critically acclaimed film that won the studio a fair amount of success, despite being a bit of a commercial failure. To this day, it remains an anime classic and a testament to the type of work Gainax can create beyond the weird, wacky, or way out. After humble beginnings with this title, however, it was on to bigger things, and that's where Gainax veered off into different territory, opening up to some very different, very engaging anime series and productions aside from Neon Genesis Evangelion, FLCL, and more.
Nadia: The Secret of Blue Water
Gainax's first true anime series was one for the ages, following young Nadia, a girl with mysterious origins. Airing from 1990 to 1991 and spanning 39 episodes, it was distributed by ADV Films in the United States,and quickly touched the hearts of those who buckled in for the fantastical ride. Nadia joins up with Jean, a French inventor, while the two struggle to escape from thieves who were after the strange pendant around Nadia's neck. Having previously performed in the circus, Nadia wants to get back to her home in Africa, while Jean comes along for the ride. Along the way they get mixed up with a colorful cast of characters, including Captain Nemo and his Nautilus submarine, jewel thieves, and even the Neo-Atlantean forces, who (of course) seek to take over the world. Nadia's secrets are revealed in due time, but not before leading audiences on a wild and wonderful ride.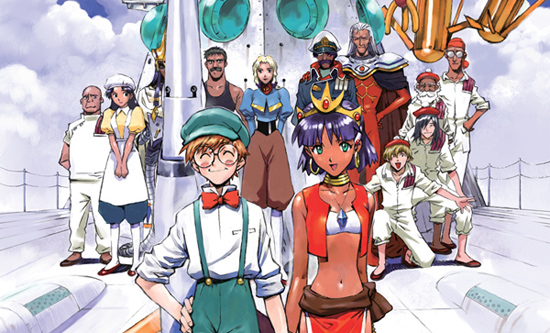 Some consider Nadia: The Secret of Blue Water to be one of Gainax's best works, and it won several awards over the course of its run, including "Best Work" from the Animage Anime Gran Prix in 1991. Memorable characters, a fantastic soundtrack, and a relatable yet still comfortably dark cast helped to elevate the story beyond that of your typical, every day fairy tale. It still stands as one Gainax work you should absolutely check into, even if you're not particularly interested in this type of story. You might come away quite surprised with the grip it very slowly enacts on you.
His and Her Circumstances
After tackling material like Royal Space Force: The Wings of Honneamise and Nadia: The Secret of Blue Water, it was a bit jarring to see His and Her Circumstances come from Gainax. It represented a major shift in tone from the studio's other works, but left the sweetest of tastes in the mouths of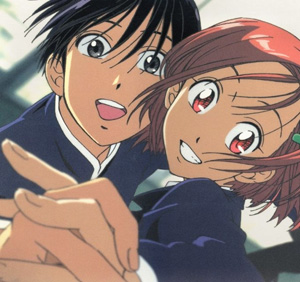 those who took the plunge. Masami Tsuda's manga series transitioned beautifully into the world of anime, and Hideaki Anno and Kazuya Tsurumaki shared directing duties for the better part of the series to great effect. Following the perfection-obsessed freak Yukino Miyazawa as she quests for perfect grades and an immaculate appearance in the outside world and a slovenly mean girl at home, it explored facets of school life that felt very open and vulnerable at the time.
When Miyazawa is threatened by Soichiro Arima, one of the only other students in school who mirrors her in every way, she makes it her personal mission to ensure he's "destroyed," or at the very least as much as you can destroy someone in high school. It doesn't help matters when Soichiro lets Miyazawa in on a little secret: that he's got a crush on her. Emotions run high, and eventually the two reconcile, discovering important truths about each other in the process, but not before wreaking havoc on their lives and abandoning the fake personas they've adopted. It's heady stuff, especially near the end where it becomes bizarrely introspective, following the two leads well into adulthood (from the manga) and onward. It's a bittersweet tale of love and learning, and one that stayed with fans long after the series ended. Like Boys Over Flowers and other similar titles, it spoke to youths and adults alike, cementing its status as one of the most excellent shoujo series out there.
Mahoromatic
After a string of more serious shows, Mahoromatic was a bit of a departure, still with its own darker moments and trademark Gainax grit. The female android and former soldier Mahoro decides to spend the rest of her remaining life as it counts down to zero as a maid to the son of the commander she served as a soldier. She's given 398 days to live at the start of the series, and moves in with Suguru Misato to take care of him as a way to atone for her actions when employed by VESPER to fight off an alien invasion.
As Suguru's caretaker and combination mother figure and girlfriend, several humorous situations arise given Mahoro's militant disdain for anything "perverted." As Suguru is a normal, healthy adolescent, this tends to cause several issues between the gleeful little homemaker and her charge, but that's part of the fun. Eventually the anime takes a bit of a sadder turn near its end, but it's a wild, raucous ride through and through, and one that's a clear departure from anything the studio created before, especially given its more "slice of life" nature.
It remains a colorful and entertaining romp that curious fans would do well to start with, perhaps as lighter fare with plenty of fanservice to go around.
Going Beyond
These selected works aren't Gainax's only decent pieces. There are several additional releases that would tickle your fancy if you're a die-hard Gainax devotee, including the excellent Panty and Stocking with Garterbelt, Gurren Lagann, Petite Princess Yucie, and more. As with any other anime studio, it's easy to look directly at the cult classics out there specific to each one and ignore the rest of their prolific portfolios, but as you've seen here with Gainax, that's like denying yourself an entire swath of content. After having perused this article, go out and try one of these excellent series for a change of pace. Then feel free to go back to your favorites. No shame in that!