Fumikiri Jikan, Manga About Cute Girls at Railroad Crossings, Gets April Anime Series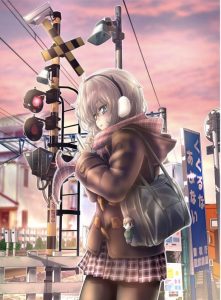 If you're a fan of cute girls and/or the sweet, sweet aesthetic of Japanese railroad crossings, Fumikiri Jikan is an April series to look out for.
The newly-announced series is based on Yoshimi Sato's manga of the same name, which translates to Railroad Crossing Time. It's described as a "omnibus" starring various girls having conversations while waiting for various trains to go by.
The anime adaptation will be directed by Yoshio Suzuki (Fighting Beauty Wulong) with scripts from Misuzu Chiba (Chi's Sweet Adventure). So far, the cast includes Sayaka Senbongi and Yui Ogura.
The manga began in magazine Monthly Action in 2016, and currently has two volumes in print.
Source: Comic Natalie