Escape Reality in This Tokyo Hotel's Manga Art Rooms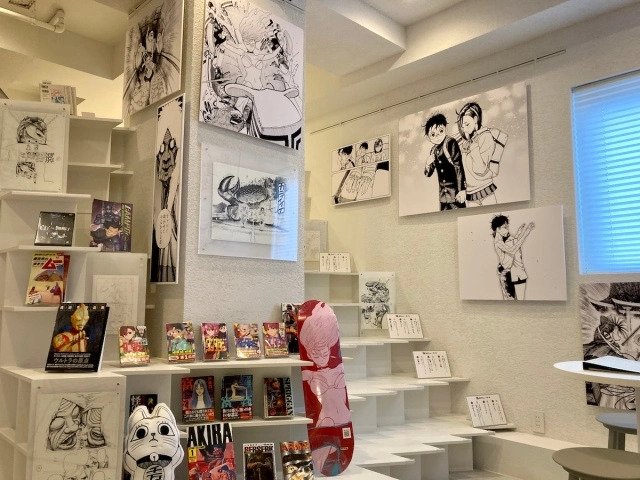 Sometimes hotels in Japan will theme their rooms to otaku interests, like this Hello Kitty room or this Sasuke Uchiha room. But in Jimbocho, an area in Tokyo famous for its hundred-plus used bookstores, the Book Hotel Jimbocho has unveiled two Manga Art Rooms this month. While they are currently working with the manga Dandadan and there are some Dandadan themes to these rooms, they're also just about manga in general.
If you stay in one of these rooms, not only will you be surrounded by Dandadan artwork on the walls, you'll also have a whole manga library in your room. A glance at this room reveals Akira, Berserk, Tomie and more.
The hotel put out this statement on the rooms (translation provided by SoraNews24):
"Welcome to the world of the Manga Brain.
In our hotel,
'reality' is strictly forbidden.
We want you to spend the entire night
absorbed in the world of the works.

It all starts with the room sauna 'KUHAKU [blank space]'.
Everything interfering with your imagination
will be reset here.
Give your body, mind, time, and everything else.

Let's go and fall in.
Into the deep, deep abyss of Manga.

Enter the blissful 'MangaBrain' experience,
where you can think of nothing but manga."
While the collab with Dandadan is going on, people who stay in the highly sought-after Manga Art Rooms can take home a Dandadan bookmark (options include NSFW ones) and a Dandadan coaster.
Dandadan is going to be published in English by VIZ Media, and they gave this description of it:
"Momo Ayase strikes up an unusual friendship with her school's UFO fanatic, whom she nicknames 'Okarun' because he has a name that is not to be said aloud. While Momo believes in spirits, she thinks aliens are nothing but nonsense. Her new friend, meanwhile, thinks the exact opposite. To settle matters, the two set out to prove each other wrong—Momo to a UFO hotspot and Okarun to a haunted tunnel! What unfolds next is a beautiful story of young love…and oddly horny aliens and spirits?"
Source and Photo Credit: SoraNews24
____
Danica Davidson is the author of the bestselling Manga Art for Beginners with artist Melanie Westin, plus its sequel, Manga Art for Everyone, and the first-of-its-kind manga chalk book Chalk Art Manga, both illustrated by professional Japanese mangaka Rena Saiya. Check out her other comics and books at www.danicadavidson.com.