Get Your Family Angst on and Stay in the Uchiha Hotel Room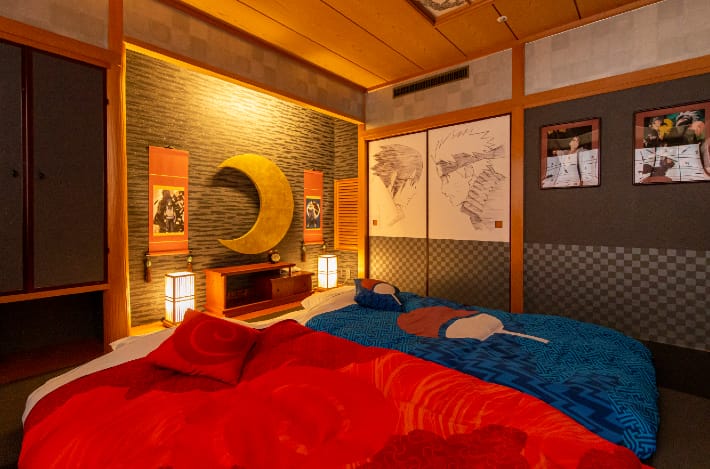 Major fans of Naruto have a major way to celebrate it: they can stay in Highland Resort Hotel & Spa's Japanese Ninja Suite, which is all about the Naruto franchise. As you can expect, the room will be decked out with Naruto images and references.
But this summer they're doing something special and a little different: they're offering a "Summer of Uchiha." That means there's a room dedicated to Sasuke and his big brother Itachi Uchiha. It was decided that summer was the best time for this event because it coincides with Sasuke's summer birthday, July 23.
The event started earlier this month, and will be around until September 11. There is even a guest training side-event where you can earn a Shinobi Certificate.
The hotel has a Macaroni Club restaurant that offers Uchiha-themed foods and drinks, as you can see here.
There is even a Naruto x Boruto Hidden Village of Konoha attraction next door to the hotel.
If you want to stay in the Uchiha room and get in on that family angst feeling, you can make reservations here. In fact, this Naruto-themed hotel is so intent on getting tourists that it has a page in English to make your reservations.
Naruto is one of the most successful shonen manga and anime franchises ever. VIZ Media brings both the manga and anime to America in English, and gave this description for the first volume of the manga:
"Twelve years ago the Village Hidden in the Leaves was attacked by a fearsome threat. A nine-tailed fox spirit claimed the life of the village leader, the Hokage, and many others. Today, the village is at peace and a troublemaking kid named Naruto is struggling to graduate from Ninja Academy. His goal may be to become the next Hokage, but his true destiny will be much more complicated. The adventure begins now!"
Source: grape Japan
____
Danica Davidson is the author of the bestselling Manga Art for Beginners with artist Melanie Westin, plus its sequel, Manga Art for Everyone, and the first-of-its-kind manga chalk book Chalk Art Manga, both illustrated by professional Japanese mangaka Rena Saiya. Check out her other comics and books at www.danicadavidson.com.