Japanese Manga Publishers Sue Mangamura Piracy Site in Court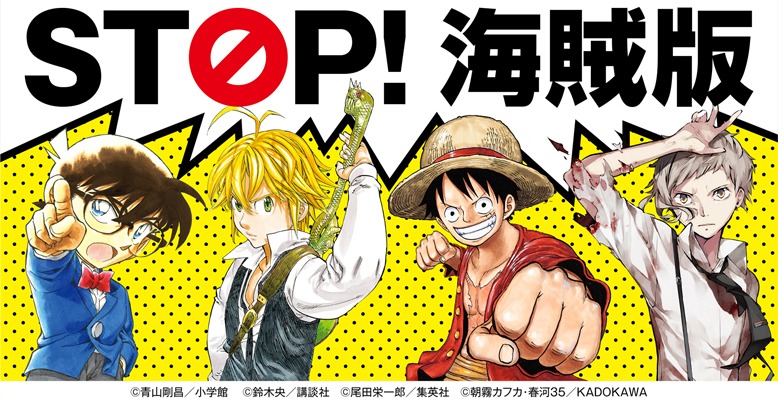 Manga piracy, which steals from creators, is a major problem in Japan and abroad. Even though there are many legal places to get manga, people continue to illegally download it online, including at the massive Japanese site Mangamura. While Mangamura has been shut down, the damage has been done, and manga publishers aren't done with it.
Yesterday, June 28, Kadokawa, Shueisha, and Shogakukan joined together to file a lawsuit against Mangamura at the Tokyo District Court. They want 1.9 billion yen (which is approximately $14.2 million). Why this number? That's estimated to be the amount of damages Mangamura caused them for pirating seventeen of their manga titles. Since Mangamura pirated more than seventeen titles, what they're asking for isn't anywhere near as much as has been lost.
The seventeen titles listed in the lawsuit are: One Piece, The Rising of the Shield Hero, Kingdom, YAWARA!, Dorohedoro, Overlord, Sgt. Frog, Erased, Wise Man's Grandchild, Trinity Seven, Hinamatsuri, Mushoku Tensei, Golden Rough, Kanojo wa Uso o Ai Shisugiteru, Karakuri Circus, Kengan Ashura, and Tasogare Ryūseigun.
Romi Hoshino, the administrator of Mangamura, was previously found guilty for copyright infringement and hiding criminal proceeds. He received three years in prison and was told to pay two fines. The first fine was for 10 million yen (approximately $91,100), and the second was for 62 million yen (approximately $565,000). The 62 million yen is a reference to some money he earned from pirating and put in a foreign bank account.
After Hoshino was found guilty, a statement from Shueisha remarked that "if the works that those who have given their all to create are given away for free, it damages the foundation for the creation of interesting works."
Japan's Content Overseas Distribution Association announced that Mangamura was taking away billions of dollars from copyright holders in matters of months on the stolen manga.
Source: ANN
____
Danica Davidson is the author of the bestselling Manga Art for Beginners with artist Melanie Westin, plus its sequel, Manga Art for Everyone, and the first-of-its-kind manga chalk book Chalk Art Manga, both illustrated by professional Japanese mangaka Rena Saiya. Check out her other comics and books at www.danicadavidson.com.