Dandadan Manga Takes Supernatural Absurdity to a New Level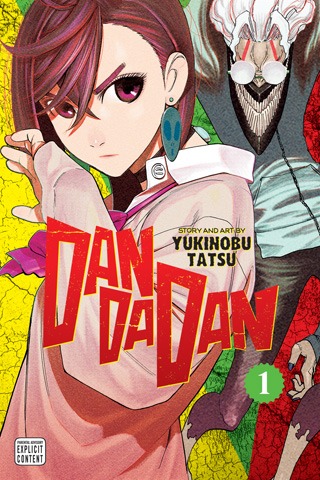 After reading just a few pages of Yukinobu Tatsu's Dandadan manga, I just had a feeling he worked with Chainsaw Man creator Tatsuki Fujimoto at some point. That turned out to be the case—Tatsu was one of Fujimoto's assistants on both Fire Punch and Chainsaw Man—and it shows in the unhinged absurdity on display in the first supernatural action-packed volume of Dandadan, which instantly became one of my new favorite series. 
Classmates Momo Ayase and Okarun—which is a nickname Momo gives him pretty much immediately—might not seem as if they have much in common at first glance, but they soon become intertwined in a way they never could have predicted. Momo believes in spirits and Okarun believes in aliens, and neither of them see eye to eye on those. In an effort to prove each other wrong, they set out to present evidence of their respective beliefs. If Momo can prove that spirits are real, Okarun has to be her personal servant, and the same applies the other way around if Okarun can prove that UFOs exist. 
Naturally, they both get way more than they bargained for. It turns out both aliens and spirits are real, and before you know it Okarun is cursed by the spirit of Turbo Granny—who threatens to "gobble his schlong"—and Momo is kidnapped and nearly viciously probed by some of the creepiest aliens you'll ever see. Thankfully, Okarun can somewhat control his cursed form, at least enough to allow him to leap into the fray and free his new friend from overly-grabby alien clutches. Now all they have to do is figure out a way to dispel this curse for good… which is easier said than done.
Immensely playful from page one, Dandadan keeps lobbing unexpectedly ridiculous turns at the reader until the first volume comes to a close. Yukinobu Tatsu's art is delightfully energetic, with dynamic angles jutting off the page and some truly excellent depictions of speed, weight and impact throughout. The story is nutty and fun and works perfectly with the confident linework, and I can't wait to see where it goes next.  
Story and Art: Yukinobu Tatsu
Publisher: VIZ Media
Translator: Kumar Sivasubramanian