We Got An Early Peek at Japan's Super Nintendo World
The opening of Super Nintendo World, initially set for February 4, was delayed by the global pandemic. However, they have been running preview events and dry rehearsals for six weeks now, asking visitors to hold back sharing anything on social media until February 4. I was lucky enough to attend one of the preview events. If you want your Super Nintendo World experience spoiler-free, click away now!
The world's first Super Nintendo World at Universal Studios Japan cost $580 million to build. The ethos behind that expense is that you don't just play the game; you're living the game. A video tells a thousand words, so this ultimate vlog contains everything you need to know, see and experience!
THE PARK EXPERIENCE
The excitement builds as you walk up the drive from the central part of Universal Studios Japan towards Super Nintendo World's entrance.
The first thing you'll notice is that the attention to detail everywhere is extraordinary. Whether it's the warp-pipe manhole covers or the ? blocks lining your route, these make the experience completely immersive, and you haven't even got there yet!
As you walk up, you'll see dates on the ground in old-school 8-bit score format. These are dates of Mario game releases, culminating in 202102 – the release of the ultimate Mario game: Super Nintendo World.
After snapping some photos at the entrance, you should purchase a Power Up Band (¥3,200, $30). These are wearable devices embedded with RFID tags. You need one to really enjoy the park in full (see later). There are six designs to choose from, so you'll be kitted-out appropriately whoever your favourite character is (unless, as in my case, your favourite character is Wario. Then you're screwed.) There is a QR code on the back which you scan to sync it to the Universal Studios Japan smartphone app.
After that, you enter into a green warp tunnel that takes you through Peach's castle (listen for castle music from Super Mario 64).
The view that awaits is truly incredible. Spinning gold coins, question mark boxes, piranha plants and goomba swamps overwhelm you. The whole zone is some kind of Mario fever dream. If you've played any Mario game over the last 35 years, you may well get quite emotional.
The entire World becomes a video game with the aid of your Power-Up Band. You can jump and "punch" question blocks to collect coins, acquire stamps, get power ups. All this is logged on the official USJ app. You can compete with your friends too.
MARIO KART AR
The Mario Kart: Koopa's Challenge AR ride is housed inside Bowser's Castle. After you enter, you head up the regal steps to encounter a monstrous statue of Bowser. After that you make your way towards the ride. There is so much detail to absorb: Bob-ombs, team flags, trophies, Mecha Koopas. Look out for the portrait of Bowser signed by Shigeru Miyamoto, the creator of Mario, and for some hilariously titled books in the library section ('Karts through the ages' and 'Dental Hygiene for Chain Chomps'). This is the first time I have never complained about lining up for a ride.
When you get to the front, video screens explain what you need to do. Sporting your Mario Cap and AR headset, you set off representing Team Mario vs Team Bowser, slinging Koopa shells and collecting power-ups along the way. You go around in four-seat Karts based on the kart design from Mario Kart 8. It's a mixed-reality experience and although you are not travelling very fast in your kart, your head is going at 100 miles an hour.
I rode Mario Kart AR twice on my visit. The first time I was completely disoriented. It was nothing like any expectations I had developed. It is total insanity. I enjoyed it much more on the second go-round, knowing what was to come.
YOSHI'S ADVENTURE
Without a doubt, this is Super Nintendo World's take on Disneyland's It's a Small World. In the five-minute Yoshi's Adventure ride, you take part in a treasure hunt, searching for colored eggs along the route while riding high above Super Nintendo World.
Definitely for the kids, although given where you are that is a relative statement!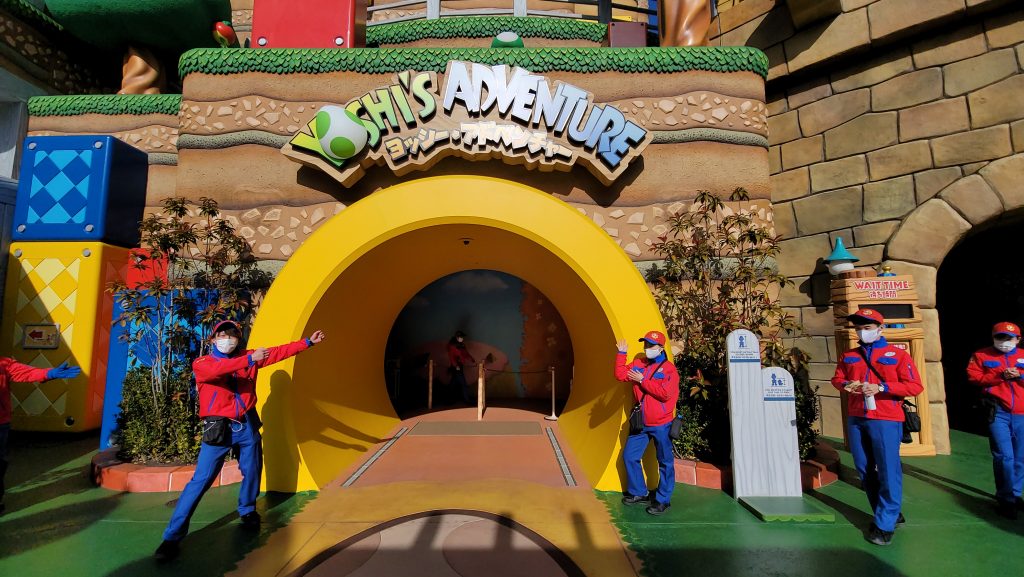 KEY CHALLENGE MINIGAMES
There are several 'Key Challenge' minigames to enjoy: Goomba Crazy Crank, Koopa Troopa Power Punch, Piranha Plant Nap Mishap, Bob-omb Kaboom Room and Thwomp Panel Panic. The latter two take place in an underground maze level.
Winning three of these games nets you three keys, which then give you access to Bowser Jr.'s lair in your quest to retrieve a stolen golden mushroom. As you can see in the video, this final challenge is, you guessed it, total and utter insanity. It's pretty physically demanding too if you get into it, as you duck Bullets Bills and jump for Power Ups.
CHARACTER GREETINGS
There are opportunities to meet-and-greet Mario and Luigi, Princess Peach and Toad. The first three will chat with you. Toad just looks super cute!
To meet the first three, you have to line up and get your photo taken by the official photographer. You can then purchase these photos – both physical and digital copies – at a separate kiosk.
THE THEMED FOOD ACTUALLY TASTES GOOD!
Kinopio's Cafe (Kinopio is the Japanese name for Toad) is the largest restaurant in all of Universal Studios Japan. It serves several themed main courses, desserts and drinks including the Mario Bacon Cheeseburger, Super Mushroom Pizza Bowl Piranha Plant Caprese, all made by Chef Toad. As throughout the park, those little touches are there for you to enjoy. For example, the Question Block Tiramisu, housed inside an edible ? box, includes a different power-up design wafer with each order, such as a Super Star or Fire Flower. I got the Super Star, and the member of Chef Toad's staff who presented me with my dessert told me that I should eat it to give me invincibility!
As you're eating, digital video screen windows offer views of Toad's world and his team preparing your meals.
The food is actually very good. I enjoyed the Mario Burger, and it is significantly better than the burger at Mel's Diner in the main part of the park.
If you don't want a full meal, you can grab a Green Shell Yakisoba and Cheese Calzone from Yoshi's Snack Island. The popcorn flavors are also fun – Mushroom Cream or Caramel Peach. Two popcorn buckets are currently available: A Super Star bucket which lights up, and a Mario Kart one.
THE MERCH GAME IS OFF-THE-CHARTS
The 1-Up Factory is stocked with sweatshirts, gloves, glasses, hats, mugs, snacks… the list is endless. If you can think of it, they've probably stuck a Mario character on it.
There is, of course, exclusive Super Nintendo World merch available too.
I hope you get a chance to experience Super Nintendo World as soon as possible. Until then, please enjoy the video above. Bring on the Donkey Kong expansion zone!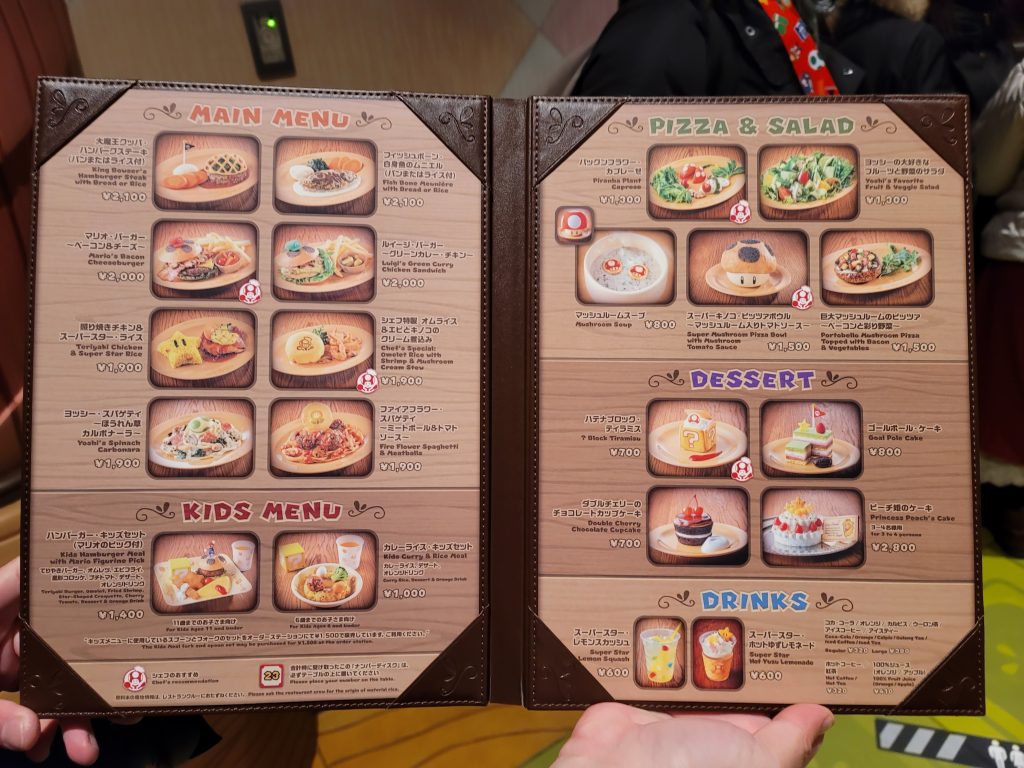 Mac Salman hails from England and has travelled to over 100 countries. A Tokyo resident for almost 15 years, Mac has been a respected analyst and commentator on Japan, its culture, art and economy, tackling subjects as diverse as the Tokyo Yakult Swallows baseball team to the impact of negative interest rates. He has been frequently quoted in the media, and has been featured in Reuters, The New York Times, The Japan Times, The (London) Times, Bloomberg, CNBC, Forbes, The Financial Times and SNL, amongst others. Mac is the Founder of Maction Planet, which specialises in Bespoke Japan Travel and Apparel. Amongst their many private tour offerings they run renowned specialised Tokyo Otaku Tours, and their T-shirt lines often involve collaboration with domestic and overseas artists.