Doraemon Receives Giant Bronze Monument in Tokyo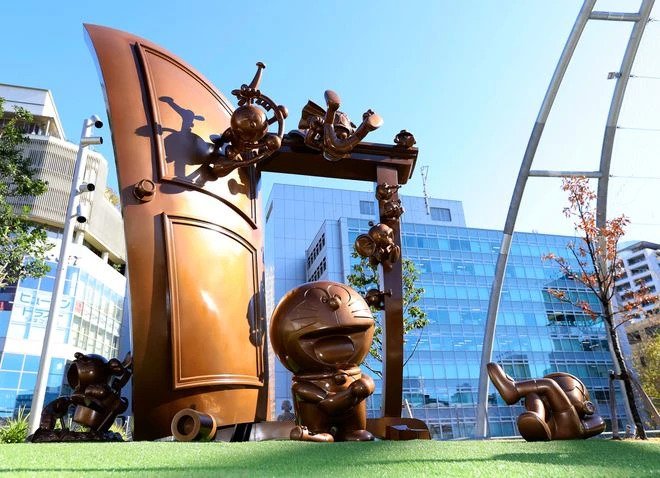 This December marked what would have been the 88th birthday of Doraemon creator Hiroshi Fujimoto (one half of the duo known as Fujiko F. Fujio). Fujimoto passed away in 1996, but love of Doraemon remains strong in Japan, and a monument for the series has just opened in Miyashita Park in Shibuya, Tokyo.
The whole monument has been titled "Doraemon: Door to the Future." The monument is almost 4 meters tall, which translates to about 13 feet. It's also 5.8 meters in diameter, which is slightly over 19 feet.
But Doraemon is not alone. The Anyway Door is there, along with other gadgets. There are also more characters created by Fujio, such as Nobita, Korosuke and Perman.
The monument is here thanks to Fujiko Pro Co., which set up the plans and supplied the funds.
Kazuhiko Akatsu, the president of Fujiko Pro Co., said it would make him happy if children from around the globe were able to visit this monument. He also expressed hope that this monument would inspire people to read the original comics. And his company is going to donate copies of those comics to elementary schools and middle schools in the ward, among other places.
"We hope (the monument) will be held dear by many people and help promote the city's pride," remarked Ken Hasebe, the mayor of Shibuya.
Doraemon celebrated its fiftieth anniversary last year as it sales soared during the early days of the COVID pandemic. Both manga and children's books sales were up, but even so Doraemon especially stood out. It showed that the franchise continues to be beloved across generations. "In the past year, I have been surprised anew by the enormous popularity of Doraemon," commented head of Doraemon Room Satoshi Matsui in 2020 in response to the massive sales. "It is indeed Japan's No. 1 manga."
Source: The Asahi Shimbun
____
Danica Davidson is the author of the bestselling Manga Art for Beginners with artist Melanie Westin, and its sequel, Manga Art for Intermediates, with professional Japanese mangaka Rena Saiya. Check out her other comics and books at www.danicadavidson.com.