Don't Miss Voice Actor Mike McFarland at Anime Fan Fest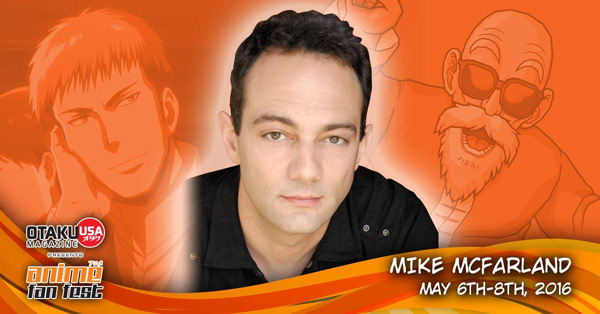 Mike got his start in anime as one of the first voice actors in Texas to be hired by FUNimation Entertainment, and has since moved on to become a Director, Script Writer, and Line Producer for numerous anime series. Notable roles include Master Roshi and Yajirobe in Dragon Ball and Dragon Ball Z, Baby and Baby-Vegeta in Dragon Ball GT, Jean Kirstein in Attack on Titan, Ritsu Sohma in Fruits Basket, Lt. Jean Havoc in Fullmetal Alchemist, Buggy the Clown in One Piece, "Ranka" Fujioka in Ouran High School Host Club, Space Dandy, and many others.
As an ADR/Voice Director, Mike has worked on such series and films as Fullmetal Alchemist, Fullmetal Alchemist: Brotherhood, Dragon Ball Z, Attack on Titan, Evangelion: 1.11, 2.22, and 3.33, One Piece, and many more. ADR Scriptwriting credits include Fullmetal Alchemist, and the uncut versions of Dragon Ball Z. Video Game credits include work on Borderlands 2, Tales of Xillia 2, Smite, The Walking Dead: Survival Instinct, Halo Wars, Stuntman: Ignition, Aeon Flux, Bloodrayne 2, Roadkill, Comic Jumper: The Adventures of Captain Smiley, numerous Dragon Ball Z titles, as well as the role of Paul Phoenix in Street Fighter X Tekken.
Anime Fan Fest is presented by Otaku USA Magazine and will take place May 6-8 of 2016, at Somerset New Jersey's Garden State Exhibit Center. To reserve tickets, click here.
Stay tuned for more details!