Director Makoto Shinkai's The Garden of Words
It is impossible to spoil The Garden of Words; it's a love story by Makoto Shinkai. Specifically, though, this movie tells the tale of Takao, a student and aspiring shoemaker whose rainy day truancy repeatedly makes him encounter an older woman (Yukino) who has recently adopted a similar routine. Their encounters explore an emotional epic about lives in flux and the refuge to be found within one another's company on the outskirts of loneliness and uncertainty.
Events start one rainy day in June just before the rainy season begins. On such days, Takao prefers to forgo the usual subway transfer to school in favor of walking to Shijuku Gyoen National Park to sit a spell in solitude, sketch some shoe ideas, and soak up the atmosphere. On this particular day, however, there's someone else in Takao's usual pagoda.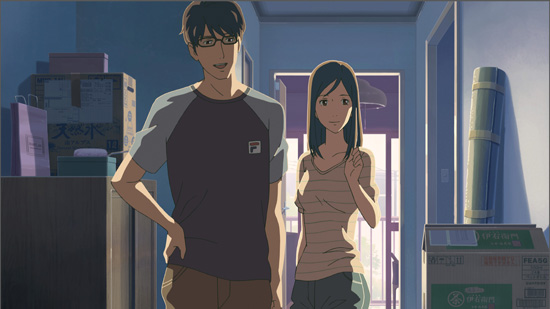 Her office attire does not mesh with her habits, which seem more like those of a typical college student than a professional, but the alluring woman whom Takao will come to know as Yukino decides to be a little more than polite with this younger stranger when she eventually decides that it's time for her to go. Upon excusing herself after a shared extended silence interrupted only by a couple of brief cordial exchanges between herself and Takao, Yukino recites a tanka (small poem). This, on top of her already strange demeanor, invokes an air of mystery and flirtatiousness that makes Takao take the bait and anticipate each rainy day just that much more.
The Garden of Words is impossible not to spoil because it is what it is: a tale of boy meets girl woman. A more basic concept does not exist; only one real question begs the viewer's attention: will they or won't they? Even if that were to be spoiled, the magic is in the how. This is where Makoto Shinkai's breathtaking visuals and how he wields them makes taking anything away from the pleasure of watching this movie utterly impossible. To watch these characters grow closer to each other is to fall in love with the storytelling itself, which is (most of the time) nothing less than poetic.
Because this is a Shinkai title, distance is an obstacle in multiple forms. Unlike most of his previous works, however, distance is the natural space of unfamiliarity between two people rather than a plot device pulling them apart. Takao's and Yukino's mutual gravitation is accomplished almost entirely via visuals. There's dialogue, but nothing gratuitously narrative—increasingly casual conversations, lunch chit-chat, daydream pondering. Some may call this film, but I call the relation of an idea solely through images a poem. Shinkai is a poet. And because The Garden of Words is now officially a poem, let me rattle off a few impressive metaphors therein.
As if the interspersed, nigh-photorealistic depictions of nature weren't enough, Shinkai uses feet as symbol and metaphor throughout this movie. Why focus on feet? Two reasons: Takao is an aspiring shoemaker, and Yukino has recently found it incredibly hard to walk. Instantly there's a person who can help and a person who needs help, respectively.
That's their relationship tie, but even that's shallow compared to how deep the visual symbolism gets. Clouds are hope, rain is both opportunity and excuse, umbrellas serve as representations of openness/honesty as well as means to establish personal space, and a branch in certain shots reflects relationship status.
As if not to underdo himself though, Shinkai ups it up a notch and, since this is a student and adult, uses a foot-modeling scene as a metaphor for a first "encounter" which consequently strengthens the allure of the relationship for both parties. The combined nature and potency of this scene is a first for Shinkai and, I believe, truly representative of the visual storytelling which he is capable. Despite visually intense nature of this movie, the use of dialogue between characters is indispensable as it often reveals relationships in flux.
Takao lives with his brother, who'll be leaving soon. Their mother has a habit of leaving to live with her current boyfriend and returning after they fight. Yukino's job and her relationship with a former lover have recently taken unexpected turns. Sadly, it's because Shinkai does such a great job of establishing so many elements as unstable that the movie's climax seems all too neat.
I blame some my disillusionment with this movie on the running time. The Garden of Words clocks in at 46 minutes (40 of which involve rain, according to Shinkai). While this is a goodly amount of time in which to tell a story and indeed harkens back to his first production, Voices from a Distant Star, it is my belief that more time was needed to fully illustrate an ending instead of having a big verbal contest (as well acted as it was); the post-credit roll scene seems a slapped-on, albeit welcome, Band-Aid.
What doesn't feel slapped-on in the slightest is Kashiwa's piano score. At times, the playing emulates the arrhythmic fall of raindrops. Other instances bear some jazzier elements that could be said to represent the chaos of romantic feelings—hearts aflutter from a budding relationship. Other times, the keys play more of a simple tune akin to a music box that produces an air of reflecting upon precious memories. At every step during the film (and even more so in retrospect), the score complements not only the characters' emotions but the tone of the movie as well.
Similarly, much credit is due to the Japanese voice actors. Miyu Irino plays a steadfast youth who's mature for his age and very much an artisan in terms of how he processes the world. To Takao, the only thing that matters is discovering the secrets of the world, which he sees possible only by following his passion for making shoes. Irino delivers a level-headed performance indicative of a such a goal-oriented soul.
As Yukino, Kana Hanazawa offers an astoundingly complex portrayal of a woman mired in conflict. Her softer tones are those of reflection and daydreaming, but when alone, the implications tend toward self-pity and depression. Her range of such delicate emotions truly lent to a convincing performance.
On the dub side, Maggie Flecknoe and Mike Yager likewise deliver knock-out performances as Yukino and Matsumoto. Sadly, Patrick Poole's Takao seems over the top. It's evident he was going for poetic dramatization (and with good intent), but in a movie already rife with such, his efforts became disruptive and ultimately counterproductive.
The Garden of Words should have a permanent place in any collection alongside Shinkai's previous works. In addition to the stunning visuals (splurge for the Blu-ray!), there are unbelievably valuable extras. Not only are the Makoto Shinkai commentary and interview humorous and enlightening, but the Japanese voice actors also offer up some fantastic insight into their portrayals and motivations.