We Can't Wait to Treat Ourselves to Delicious Party PreCure
February is here, and that means it's time for a new team of Pretty Cures to take the stage! Delicious Party PreCure marks the 19th TV series in the long-running franchise, and this time (not for the first time) it's all about food.
Every season brings new hype, and this one is no different. Here's a few things we're looking forward to as the new team takes the stage.
New Voice on the Block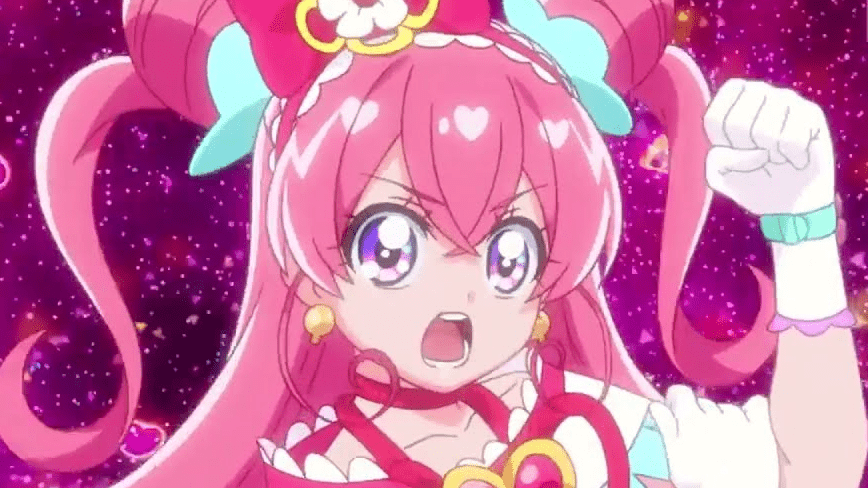 We've heard lots of familiar voices throughout this magical franchise, from Macross Frontier's Megumi Nakajima as Cure Lovely to rising star Fairouz Ai as last season's Cure Summer. But Delicious Party Precure is turning to a fresh new talent for its pink Cure. Hana Hishikawa makes her starring debut as Cure Precious, the show's energetic star.
You may recognize her co-stars, though. Risa Shimizu (Angelica in Show by Rock!!) plays the elegant Cure Spicy. And Yuka Iguchi (Index of A Certain Magical Index) voices the talkative Cure Yum-Yum.
Curious Characters
Like other seasons before it, Delicious Party PreCure sees the intersection of our world with a very specifically themed magical one. In this case, it's Cookingdom — a world run on the magic of cooking. But a team of phantom thieves has run off with their magical items. And that's where the Cures come in.
Along with some adorable fairies (like seriously, look at that bread pupper), we get some new human friends. Cookingdom's glamorous dude Rosemary will be helping the girls in their magical search. Oh, and there are those phantom thieves we mentioned: the Bandits. As much as we know to root for PreCure, we're kind of excited about that heist vibe.
Gratitude and Sharing
Every season of PreCure has an on-main theme. Like cooking, or baking. Or princesses. Or dancing and fruit. But recent seasons also have a second theme tied in: something for the kids watching to take to heart. For example, learning to look after pets and nature in Healin'Good. Along with the food theme of Delicious Party, there are themes of sharing and thankfulness. Which makes a lot of sense, considering each heroine is the daughter of a restaurant owner.
Their family's job is all about making people feel welcome and making sure they're well fed. And by the sound of things, that's a virtue of the show as a whole. The girls can use their magic not just to fight evil, but also to make sure the people around them are cared for.
Delicious Party PreCure kicks off this weekend!
Feeling suspicious of the whole magical girl scene? Check out this list of things to look out for before you sign that contract.