Death Note Live-action TV Series Cast Revealed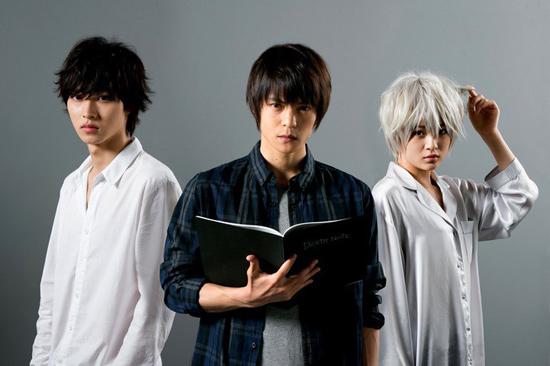 It was revealed last month that Death Note, the uber-popular manga-turned-anime-turned-films-turned-musical, would also be getting a turn as a live-action TV series this July.
Now comes the announcement of the series' principal cast members and a photo of them in costume.
Starring as L is 20-year-old Kento Yamazaki, who has appeared in the films L-DK and Love for Beginners and the TV series Mare and Water Polo Yankees.
Light Yagami will be played by Masataka Kubota, who played Akira Kiyosato in Rurouni Kenshin and Keita Amishima in Phone Braver 7.
Finally, appearing as Near, who did not feature in the previous live-action films, is Mio Yuki, who played Yukiko in the live-action version of Assassination Classroom.
"Cool costumes and all," you say, "but I don't really need to see Death Note again." Maybe this'll change your mind: the new series is set to feature an original story different from the anime and films.
What do you think of this first look at the series? Looking forward to July, or are you more of a musical fan?
Source: ANN
---
Related Stories:

– Death Note Live-Action TV Drama Announced
– Gus Van Sant Rumored to Direct Live-Action Death Note
– Get a Taste of Death Note: The Musical
– Death Note Musical Stars Warm Up Their Vocal Cords
– A Chat with Anime Voice Actor Brad Swaile