CRUNCHYROLL SPRING 2011 PREVIEW
MARCH 30, 2011
Sket Dance
Trivial troubleshooters
Crunchyroll is adding another situational comedy to their spring lineup, this time in the form of Sket Dance. Based on Kento Shinohara's manga—recipient of the 55th annual Shogakukan Manga Award in 2009 in the shonen category—Tatsunoko Productions has 12 episodes in the pipe. Keiichiro Kawaguchi directs the adaptation, which Crunchyroll's Brand Manager, Keith Kawamura, describes as such:
"Support, Kindness, Encouragement and Troubleshooting. SKET is a high school brigade whose mission is to help kids in trouble. Upon consultation, they will offer a tailor-made solution. Bullies, a ghost, lack of self-respect, a missing pet or a broken videogame, you name it! Serious, surreal or laughable, come to meet the threesome and they will do their best to find an answer. Come on in anytime! To tell you the truth, they are not so much in demand and are just hanging out in their club room, bored to death most of the time!"
No matter how trivial the problem, the Sket Brigade will be there to lend a helping hand. Beats kicking it in their club room bored out of their skulls, after all. Sket Dance will launch on Crunchyroll every Thursday at 3 a.m. PST for premium members, 30 minutes after its Japanese broadcast. Free members can catch each episode a week later. (JL)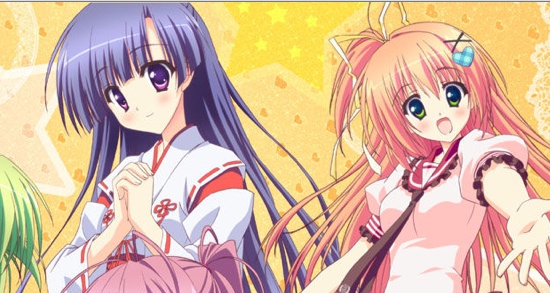 Hoshizora e Kakaru Hashi
Country lovin'
When Kazuma Hoshino moves to the countryside to take care of his little brother, Ayumu, he doesn't exactly plan on getting into any serious mischief. As we all know, however, these things have a way of happening, and such is the case when he and his brother get lost on the way to a Japanese Inn. It's in this unfamiliar place that Kazuma runs (literally) into a girl named Ui Nakatsugawa, kicking off what Crunchyroll dubs "a love comedy of the countryside."
Hoshizora e Kakaru Hashi – A Bridge to the Starry Skies is the latest anime to be announced as part of Crunchyroll's simulcast of the spring season. This particular tale comes from the world of bishojo games, but it's not the first of adult game company feng's titles to be adapted. Their fifth game, Akane-Iro ni Somaru Saka, got the animated treatment in 2008.
Director Takenori Mihara (episode director for Genshiken, Guin Saga, and more) teams up with screenwriter Go Zappa (Shin Koihime†Muso) to bring the romance to life. Among the voice talent is Aiko Okubo as Kazuma Hoshino and Eriko Nakamura in the role of Ui Nakatsugawa.
Episodes of Hoshizora will stream exclusively for Crunchyroll premium members after they air in Japan. In addition to their normal setup, Japanese viewers can also watch the show through a specialized iPhone app that will debut simultaneously with the series' launch. (JL)
Hoshizora e Kakaru Hashi on Crunchyroll
Tono to Issho
Laughtrack to the warring states
If ever one could name two things dominating the spring anime lineup thus far, it would be comedy and romance. Well, next up on the announcement block is a repeat performance from Tono to Issho—a champion of the former category—which will be spending its second season firmly planted in the pages of Crunchyroll.
Tono to Issho began as a four-panel gag manga by Ohba-Kai, serialized in Media Factory's Comic Flapper magazine. The comedy takes place during Japan's sengoku period, centering on the ridiculous exploits of generals. In addition to the first season (currently available to stream on Crunchyroll in its entirety), Tono to Issho had an OVA produced and bundled with the 5th manga volume as "vol. 1.5" of the animated series.
Premium members can start digging into season 2 when the simulcast kicks off next month, every Monday at 11 a.m. PST, 45 minutes after the original broadcast. (JL)
Deadman Wonderland
A savage main attraction
Here's something a little more action-oriented for all the shonen fans out there. Deadman Wonderland cooks up a modern twist on ancient gladiatorial coliseums with the story of Ganta Igarashi. Convicted of a crime he didn't commit, Ganta is shipped off to a privately owned and operated prison called Deadman Wonderland. Inmates slapped with life sentences are injected with a lethal poison that can only be kept at bay via candy earned through performances in deadly prison games. Ginta now has to fight to survive in a cutthroat world where prisoners are the main attraction.
Deadman Wonderland—written and illustrated by Eureka Seven's Jinsei Kataoka and Kazuma Kondo, respectively, has been running in the pages of Kadokawa Shoten's Shonen Ace since 2007. Thus, Manglobe's animated adaptation arrives hotly anticipated.
Koichi Hatsumi, director of the anime, has pulled various Episode Director jobs on shows ranging from Birdy the Mighty Decode:02 to Kimi ni Todoke, among other duties. You can tune in and see how his interpretation of Deadman Wonderland pans out on April 16, when the stream kicks off 30 minutes after its original airing in Japan. (JL)
Deadman Wonderland on Crunchyroll
—–