Three Places Code Geass Is Celebrating Its 15th Anniversary
Mecha franchise Code Geass is celebrating 15 years of robots, mind games, and (of course) delicious pizza. It's got its own mobile game and a TV rebroadcast in Japan to get the party started, but that's not the only place you'll see Lelouch, C.C., and friends/enemies. In fact, some of their party tour stops are pretty surprising.
Here's a short list of some of the places we've seen them. How about you?
On the dessert menu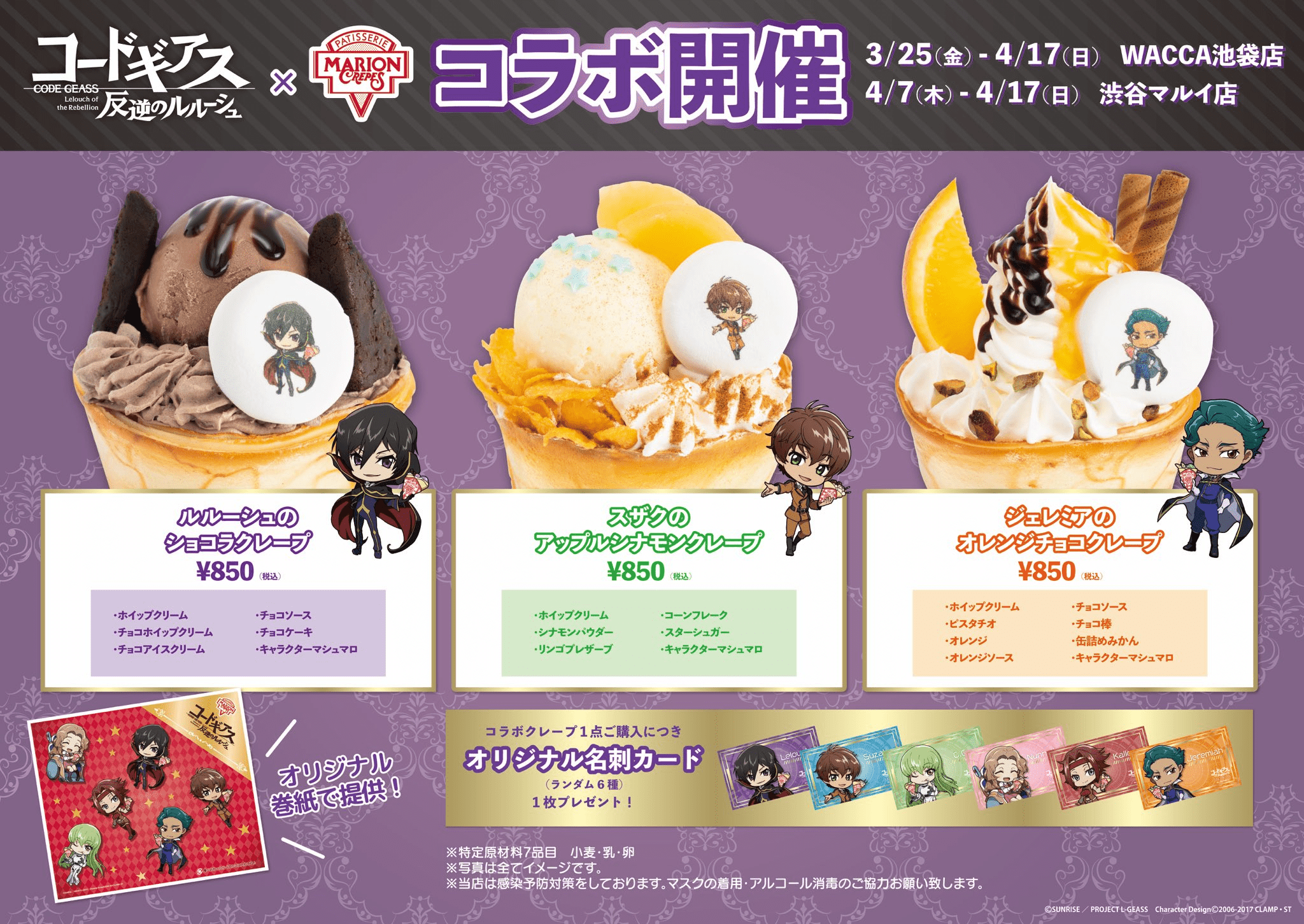 Parties mean fancy desserts, and Code Geass isn't about to skimp on that! They collaborated with Marion Crepes to release these tasty collab snacks. Lelouch gets a chocolate crepe with a scoop of chocolate ice cream. Jeremiah gets a chocolate/orange variant. And Suzaku has our favorite: an apple-cinnamon crepe with star sugar and apple preserves.
Sadly, we're unlikely to get these tasty treats stateside… so we'll just have to dream. And enjoy the adorable chibi art.
In Super Robot Wars… with legs!
Super Robot Wars is celebrating its 30th anniversary, and Code Geass is along for the ride. Lelouch and C.C. not only get to join the fight, they get a custom robot! Or, to be more specific, their robot gets to be completed.
For 30, Sunrise rolled out Gekkoei Sui, a finished version of Lelouch of the Re;surrection's Gekkoei. Now with legs and functional weapons, the bot is prepared to go toe-to-toe with (and against) the game's other units. This isn't an uncommon move for Super Robot Wars, incidentally. They love to complete, upgrade, and otherwise beef up participating units. That's how we got Mazinkaiser, for example.
Chasing school idol dreams
And firmly in the "not an April Fools' joke, no really" category, we have the Code Geass x Love Live! collaboration. In it, the members of Aqours find themselves in a dreamscape that looks a lot like Ashford Academy. There, they meet Nunnally, who can now walk(!) and who carries a talking Lelouch plushie with her everywhere. With her legs now functional, Nunnally has decided she wants to be a school idol.
During the campaign, you can scout both μ's and Aqours members in collab gear, and challenge live performances of songs from the show. (The chibi μ's SSRs are especially adorable.) You can also earn bonuses for completing lives with these collab idols on your team, and progress through the event's dream-world story.
There's even more to come from Code Geass this year, it seems. What are you most looking forward to?
Need more megalomaniacal anime boys? See this take on Attack on Titan from the maker of the popular YouTube Backrooms series.