Check Out These Converse Jojo's Bizarre Adventure Sneakers
A few weeks ago we covered the new Gundam sneakers, a collaboration between Reebok and Sunrise that combined two of the most iconic designs in giant robot-dom with the now 20-year old Insta Pump Fury sneaker design. But what if you don't like Gundam? Converse's newly announced Jojo's Bizarre Adventure Jotaro Kujo-inspired sneakers, maybe?
Modeled after the protagonist of the currently airing Jojo's Bizarre Adventure: Stardust Crusaders anime, the sneakers take the classic Chuck Taylor All Star sneaker design and adds a few of Jotaro's signature design elements, including "ORA ORA ORA"s up and down the sides, and that funky left-hand palm symbol done up in gold etching on the back. And of course, the top eyelet hole is shaped like a star, the Joestar family's birthmark, symbol of destiny, and so on.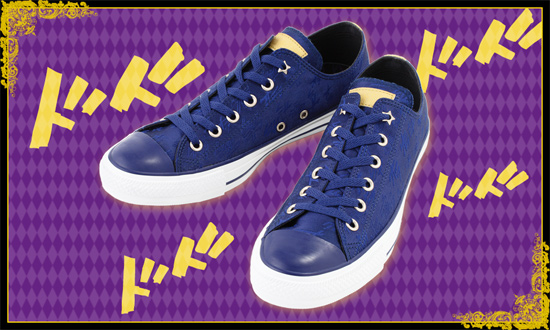 These are actually the second pair of Jojo's-inspired sneakers — the first pair was based on Part 1 of Jojo's (episodes 1-10 of the recently released TV anime), plastering a Chuck Taylor top to bottom with the iconic vampirism-inducing stone mask from the beginning of the series.
The Jotaro-based designs are currently on sale at Japanese Converse retailers for 11,000 yen.