BONES Gets Sweet with Short Anime for Confectionery Company
Lotte is Japan's third largest confectionery company, and they're celebrating big time with a 70th anniversary project. One of the contributing pieces is a four-minute anime short titled "Baby, I Love You-daze," centering on a chance encounter at a Lotte store between a junior high boy and a high school girl.
Best of all, anime studio BONES (My Hero Academia) handled animation for the short, with Rie Matsumoto (Blood Blockade Battlefront) directing and BUMP OF CHICKEN providing new track "Shin Sekai" ("New World") as the theme song. Genki Kawamura (Your Name.) produced the short and Yuuki Hayashi (Kyousou Giga) provided character designs and handled animation direction.
Watch as the encounter is overseen by personifications of Lotte's 17 most popular products, including the likes of Almond Chocolate, Macadamia Chocolate, Black Black Gum, Custard Cake, Choco Pie, Coolish Gum, Coolmint Gum, Crunky Chocolate, Ghana Chocolate, and Koala no March.
Full short:
Trailer: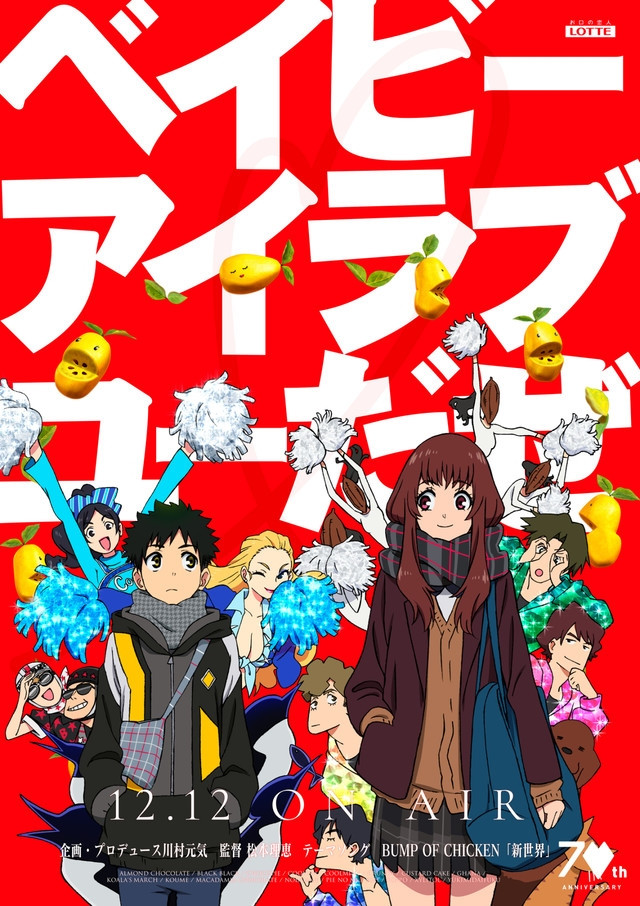 Via Crunchyroll