Bakuman: Live-Action Film Review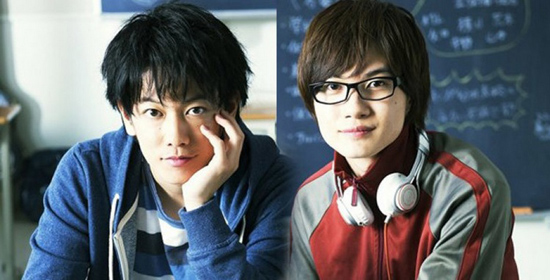 Bakuman is the best live-action manga adaptation I've seen this year.
Based on the manga by Death Note creators Tsugumi Ohba and Takeshi Obata, Bakuman is the story of two high school students who team up to create a manga worthy of serialization in Shonen Jump, Japan's premier manga magazine.
Thanks to some smart filmmaking choices, Bakuman comes out a cut above most manga adaptations and serves as a grand tribute to Japan's unique comics culture.
Moritaka Masahiro is an average high school student aiming for nothing more than an average university and an average career. He's unusually skilled at drawing, but gave up his childhood ambition of drawing manga after his uncle, himself a manga-ka, died from shock after his Shonen Jump series was canceled.
That all changes when Moritaka's classmate Akito finds his sketchbook, suggesting – in fact, insisting – they team up, with Moritaka as artist and Akito as writer, to create a manga worthy of Shonen Jump. Moritaka's uninterested at first, but then a girl gets involved. You know how these things go.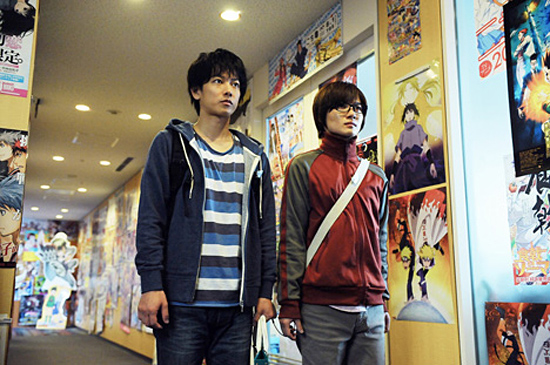 Full of youthful ambition, Moritaka and Akito get started, submitting their first project to Jump editor Hattori, who sees raw talent in the young men. And senior editor Sasaki (Lily Franky) realizes the sales potential of pitting the duo against fellow high schooler and genius manga-ka Nizuma (Shota Sometani), who becomes their rival in competition for the hearts of Jump readers, who determine via survey which manga lives or dies.
This all means the pair has a lot of drawing to do, and leads to an interesting filmmaking challenge: how do you make two guys sitting in a room putting pencil to paper exciting?
Bakuman accomplishes this with clever use of computer effects. As Moritaka and Akito furiously scribble, the manga images come to life on-screen, popping out of their frames, scaling the wall of the studio and jumping in time with the excellent soundtrack by rock band Sakanaction.
In the best of these drawing scenes, the duo's competition with Nizuma is represented by a physical battle waged with giant pens spewing ink across the screen. Shota Sometani's performance as the awkward, possibly crazy Nizuma is, by the way, laugh-out-loud funny, and the best performance I've seen from the popular young actor yet – maybe he's better suited at playing weirdoes than heroes?
Another reason Bakuman succeeds is that it's set here in the real world, where the transition from manga to live-action is less awkward than with, say, a fantasy series. The realism is further enhanced, as in the manga, by the use of the real Shonen Jump – according to an interview with director Hitoshi One, many scenes were even shot at the actual offices of Jump.
One troubling thing about Bakuman is the message it seems to be sending about overwork. Stressed out and sleepless while trying to make a deadline, Moritaka collapses and is hospitalized. He's ordered by his editor to stop drawing until graduation, but checks himself out early and continues – and the editor who ordered the break relents once shown the finished pages.
Overwork is a serious problem everywhere, but it's especially infamous in Japan, where there's a word – karoshi – meaning "death from overwork." Manga or films romanticizing working through pain, showing characters that somehow push through sickness with pure passion, are sending the wrong message.
There's another, more positive message in Bakuman, though. With its scenes of children to teens to salarymen enjoying Moritaka and Akito's manga, the film is a real celebration of and testament to the unique power of Japan's comics culture. There's something special about a culture where young and old alike are united by the stories released weekly in a phonebook-sized comic magazine that's been running since 1968.
And if you see this film and aren't inspired to pick up a pencil and try your hand at comics, at least for a minute, I'll eat a copy of Shonen Jump.
---
Related Stories:

– New Cast Photos Released for Ghost in the Shell Stage Play
– Takashi Miike to Direct Live-action Blade of the Immortal
– Hollywood Death Note Movie to Star Paper Towns' Nat Wolff
– "Surprisingly Good" Live-Action Adaptations Ranked