Assassination Classroom Gets TV Anime, Live-Action Film
It's been both rumored and expected, especially since the manga has been such a success, but it's now official: Yusei Matsui's Assassination Classroom is getting a TV anime adaptation, set to air on Fuji TV in 2015. That's not all, though, because the series is also being adapted into a live-action film.
The announcement comes from the July issue of Shueisha Comic News. Assassination Classroom originally launched in the publisher's Weekly Shonen Jump magazine in 2012, and ranked number 7 in Japan's top-selling manga for 2013. Kiddy Grade director Keiji Gotoh helmed an event anime based on the series last year.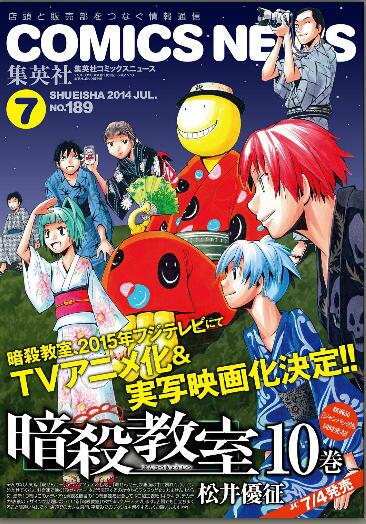 Viz Media is set to publish the manga's first volume this December. Here's Viz's synopsis:
ASSASSINATION CLASSROOM · Rated 'T+' For Older Teens ·
MSRP: $9.99 U.S. / $12.99 CAN · Print & Digital Available December 2014
A humorous and action-packed story about a class of misfits who are trying to kill their new teacher – an alien octopus with bizarre powers and super strength! The teacher has just destroyed the moon and is threatening to destroy the earth – unless his students can destroy him first. What makes things more complicated is that he's the best teacher they've ever had! The bimonthly ongoing series will also be available digitally.
Via ANN
---
Related Stories:

– Manga Review: Assassination Classroom v. 1
– Assassination Classroom 2-Minute Trailer Hits Web
– Assassination Classroom Videos Galore!
– Assassination Classroom Anime Teased
– Assassination Classroom Anime Debuts in January