All Volumes of Record of Ragnarok Coming to Mangamo This Friday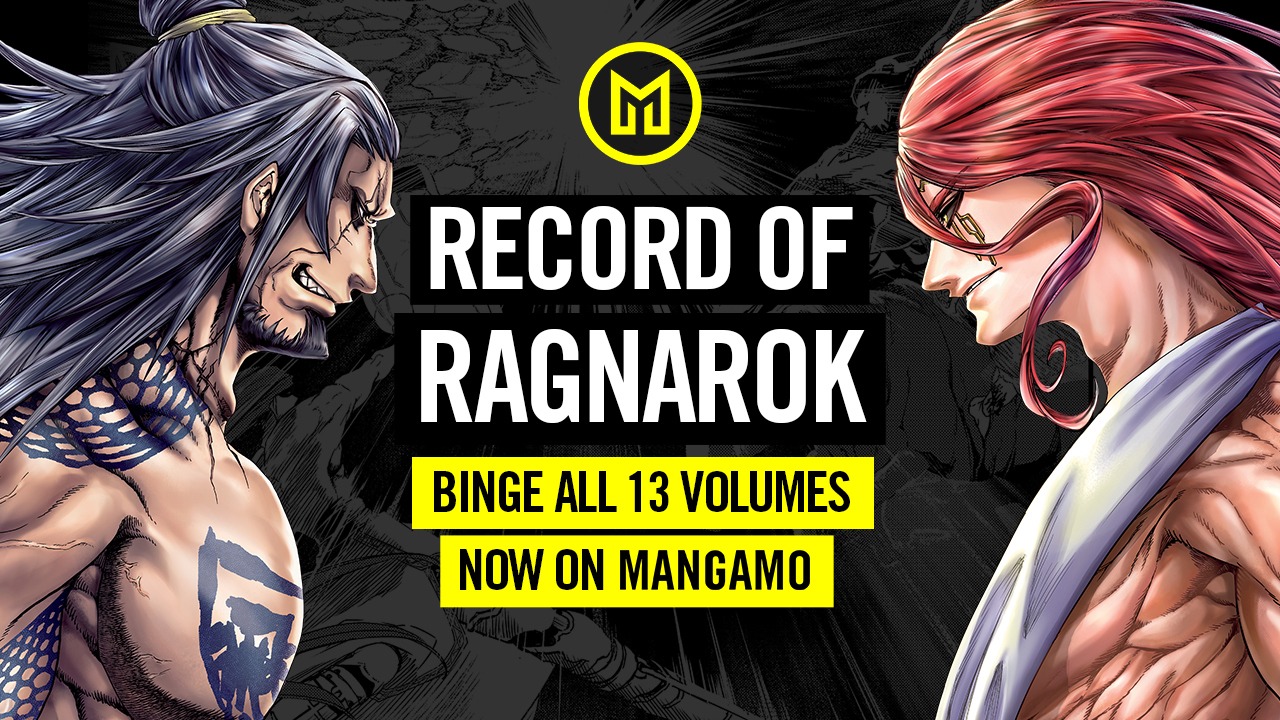 This Friday, March 18, all 13 volumes of the manga Record of Ragnarok will become available on the digital manga app Mangamo.
"The Record of Ragnarok manga series has sold over 10 million copies in Japan—making it one of the biggest manga hits in recent years—and shows no signs of slowing down," Mangamo CEO and founder Buddy Marini said exclusively to Otaku USA.
Record of Ragnarok debuted in 2017 in Coamix's Monthly Comic Zenon, and is written by Shinya Umemura and Takumi Fukui and illustrated by Ajichika. It's receiving an anime adaptation from Graphinica, with the first season already released and the second season in production. It streams on Netflix.
"We are very excited that all 13 volumes of Record of Ragnarok will be delivered on Mangamo at once. We look forward to having many people around the world catch up to the most recent volume in this user-friendly subscription app," remarked a spokesperson for Coamix.
"Readers can binge Record of Ragnarok on Mangamo and get unlimited access to over 400 more manga series at a tremendous value. We are thrilled to bring fans a completely new way to discover new manga hit titles straight from Japan," Marini said in a press release.
The Mangamo app is $4.99 a month and offers both already established titles like Attack on Titan and manga making their English debuts. Some of their English debuts include Devil-Chi, Immortal Undertaker, Ghost Story Loop, Ultra-Fem Shishihara-kun, Tokyo Death Game, Nanase-san's Crazy Love Obsession, You Guys are All Annoying!, I Wanna Be Your Girl, Memento Memori, DEATHDEUS: Hero of the Dead, A Man With A Thousand Skills, and Do It or Die.
Mangamo gave this description of Record of Ragnarok:
"Once every millennium, the gods hold a council to decide the fate of mankind. Finally fed up with mankind's unceasing wars and destruction of the environment, the gods have decided the end of mankind, when a single Valkyrie, Brunhild, proposes Ragnarok, a best-of-thirteen tournament between gods and mortals. As the 13 gods of different mythologies and religions engage in duels with 13 central figures in the history of mankind, will humans finally be doomed to eternal annihilation".
Source: Press release, email correspondence
____
Danica Davidson is the author of the bestselling Manga Art for Beginners with artist Melanie Westin. She is also the author of its upcoming sequel, Manga Art for Everyone, and the first-of-its-kind manga chalk book Chalk Art Manga, both illustrated by professional Japanese mangaka Rena Saiya. Check out her other comics and books at www.danicadavidson.com.