Adidas Releases Team Japan World Cup Jerseys With Pikachu On Them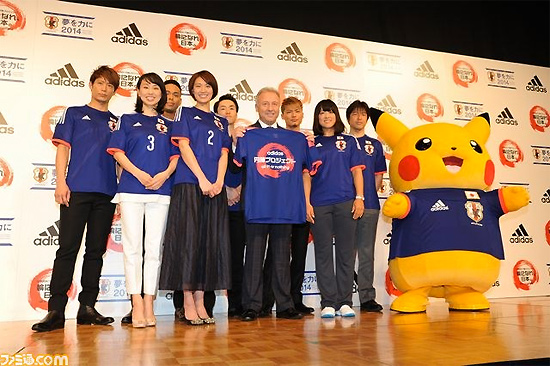 The World Cup is right around the corner, and Adidas is supporting Team Japan with a Pokemon-themed replica jersey.
These jerseys are just one part of a massive Adidas marketing effort going by the name "Enjin Project". An enjin, you see, is the Japanese term for a group huddle or any other big ol' circle of people unified for a common cause. Like supporting Team Japan! And hey, what better way to get everyone into it than with a Team Japan jersey with Pikachu on it?
The Pokemon replica jersey comes in an adult size at 7,400 yen (about 75 bucks), while a smaller kid's version is also on sale for 4,212 yen ('round $42) and comes in two varieties: flag-waving stoic Pikachu, and upbeat cheering Pikachu.
Enjin Project also teamed up with AKB48 to release a similar collaboration replica jersey and marketing campaign.
If you're a discerning soccer fan planning to support Japan in the World Cup, or maybe just a Pokemon fan looking to collect 'em all, these are on sale now (in Japan, obviously).
Source: Aeon Square, Adidas