A Terrified Teacher at Ghoul School [Review]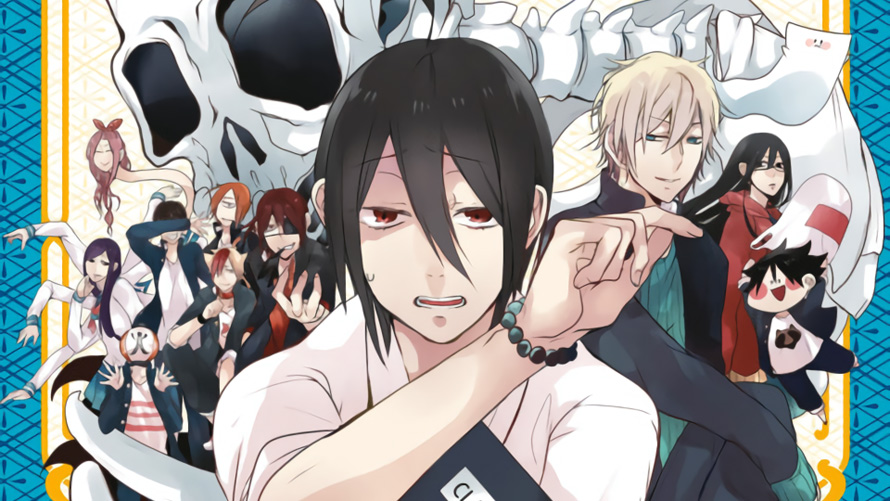 After failing at his old school, spineless rookie teacher Haruaki Abe finally lands his dream teaching assignment. Eager and bright eyed, he arrives at Hyakki Academy Island, where he'll be teaching Japanese language classes. To his dimay, he discovers the school is for yokai, Japanese monsters of myth and legend who, like modern teens everywhere, need an education. The school principal bribes him into staying, and from there Abe slowly learns about yokai, befriends his students, and discovers his own untapped monster-fighting power.
ATTAGS is a fast-paced comedy full of laughs and snappy jokes. Abe is a hilarious protagonist, a sad-sack weakling with a secret power he never knew he possessed until coming to Hyakki. Abe comes from a family renowned for its spiritual power and has inherited his ancestors' ability to smite yokai. The school's mysterious masked principal is aware of this power, but Abe tries to keep it secret to avoid scaring his students. ATTAGS also subverts the usual high school girl harem trope by surrounding Abe with cadre of grumpy boys, among them Sano, a god of pestilence; Maizuka the mame-danuki (a tiny tanuki); and Hijita the dorotabou, a rice paddy demon who controls mud. One of the drawbacks of the series is that the female characters are relegated to the background. The one exception is Zashiki, a gamer shut-in whom Abe convinces to come back to class.
The densely packed panels require careful examination: blink and you'll miss something. The characters are funny and expressive, and Tanaka has an excellent sense of physical comedy. The character designs are attractive, though some of the background monsters are sketchily drawn. Volume 1 sets up interesting plot threads for future volumes. Will Abe ever grow some backbone? Can he learn to use his spiritual powers? And what is the principal up too? The Yen Press translation includes extensive endnotes, which are essential to explain all the references to Japanese folklore, but could have been done better. Dictionary-style entries for the yokai would have been more helpful than endnotes listed by page number, especially since most of the pages aren't numbered. This tiny complaint aside, ATTAGS is a great comedic romp.
publisher: Yen Press
story and art: Mai Tanaka
rating: T
This story appears in the August 2018 issue of Otaku USA Magazine. Click here to get a print copy.