3D Digital Billboard Shows off Sanrio Character Pompompurin's Rear End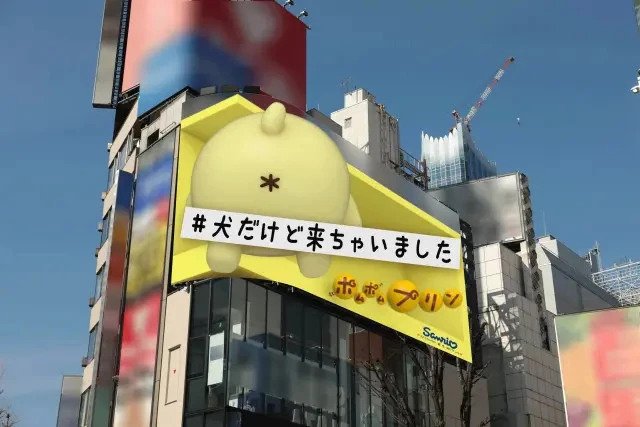 Japan has been having a lot of fun with its 3D digital billboards, showing everything from a menacing Frieza to Final Fantasy VII's Red XIII escaping from Shinra. The billboard near Shinjuku Station is sharing the latest otaku ad with Sanrio's Pompompurin, and a lot of it concentrates on Pompompurin's rear end.
There are two reasons for this ad: one, it's an early celebration of Pompompurin's birthday (which happens on April 16), and, two, it's for Sanrio's yearly popularity poll. Voting for your favorite Sanrio character starts on April 8.
In the ad, first you see Pompompurin squeezing into the space butt-first. He slides in, shows off his butt some more, then gets up on his feet. "I'm a dog, but I'm here!" he says.
He also encourages you to smile, does a backflip, and shows off his butt some more.
This video alone has been viewed more than two and a half million times, plus there are all the people who have been able to see it in real life, and all the videos they've made of it.
SoraNews24 shared a sampling of the happy responses from Japanese netizens, who by and large really love the ad.
"Wow, the most cutting-edge Pom! So cute! Fantastic!"
"Thanks for showing us your butt so many times! So cute!"
"What what what….too cute!!"
The ad is only here for a limited time, sticking around till April 10.
Sanrio, which likes to give its characters biographies, said this about Pompompurin:
"This boy golden retriever is unmistakable in his trademark brown beret. He has a laidback demeanor and loves the phrase 'let's go out!' He loves milk, anything soft, and his mama's cream caramel puddings. He has a talent for napping and doing 'purin aerobics', and can make friends with anyone. His dream is to get even bigger."
Source: SoraNews24
____
Danica Davidson is the author of the bestselling Manga Art for Beginners with artist Melanie Westin. She is also the author of its upcoming sequel, Manga Art for Everyone, and the first-of-its-kind manga chalk book Chalk Art Manga, both illustrated by professional Japanese mangaka Rena Saiya. Check out her other comics and books at www.danicadavidson.com.