3D Frieza Ad in Tokyo Looks Like It Can Reach Out and Grab You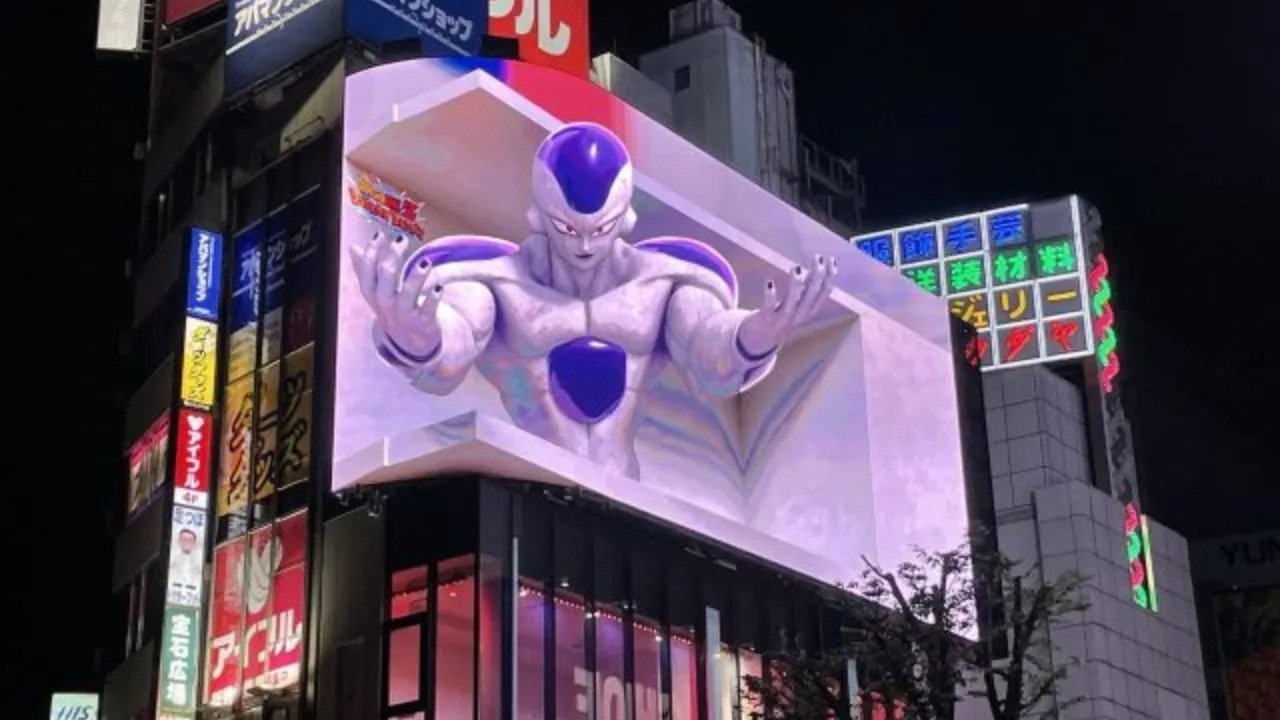 The east exit near the Shinjuku Station in Tokyo has something very eye-catching: a curved LED digital billboard. It's the first in the country, and the advertising space allows you to create 3D ads with 4K image quality. So far the star of the show has been a huge calico cat that shows up between other ads. Knowing Japan's love of cats, it's not surprising the feline has been a hit, but lately it's also been sharing space with one of Japan's most famous villains in pop culture: Dragon Ball Z's Frieza.
For starters, here's a look at the cat.
Now here is Frieza, menacing and diabolical. It actually looks as if he might be able to reach down and grab you.
The Frieza ad was only used for a limited time, though, and that time is already up. It's part of an ad campaign for the mobile game Dragon Ball Z: Dokkan Battle, brought to us by Bandai Namco. This is the official description of the game:
"DRAGON BALL Z DOKKAN BATTLE is the one of the best DRAGON BALL mobile game experiences available. This DB anime action puzzle game features beautiful 2D illustrated visuals and animations set in a DRAGON BALL world where the timeline has been thrown into chaos, where DB characters from the past and present come face to face in new and exciting battles! Experience the new story and save the world of DRAGON BALL!

DRAGON BALL Z DOKKAN BATTLE features a super refreshing and simplistic approach to the anime action genre! The epic anime-like battles feature simple yet addictive gameplay. Link Ki spheres during battle to attack your foes! Take your time and play at your own pace, it's the perfect DB game to play on the go wherever you are! When you are ready and powered up, finish your enemies with powerful Super Attacks such as Super Saiyan Goku's Kamehameha and many more to send enemies flying!

All of your favorite characters are here from all your favorite DRAGON BALL anime series! From DBZ to DBS, everyone's favorite Saiyan, Goku and his friends are ready to battle Frieza, Cell, Beerus, Jiren, and more! Summon your favorite DB characters and create the ultimate dream team(s)! Train and Awaken DB characters to power them up!"
Does a giant Frieza make you want to play it more?
Source: SoraNews24
____
Danica Davidson is the author of the bestselling Manga Art for Beginners with artist Melanie Westin, and its sequel, Manga Art for Intermediates, with professional Japanese mangaka Rena Saiya. Check out her other comics and books at www.danicadavidson.com.