Yuu Watase Wants to Continue Arata Manga Soon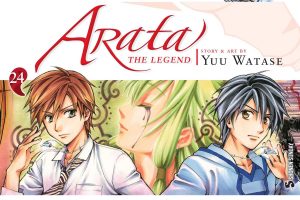 Yuu Watase's Arata: The Legend manga went on hiatus back in August 2015, but the creator has resurfaced to announce the next steps. While Watase says she is still recovering from depression, she wants to attempt to resume the series sometime this year.
Yuu Watase is known for a variety of long-running shoujo series, including Ceres: Celestial Legend and Fushigi Yugi, the latest installment of which runs every other month in Monthly Flowers magazine in the form of Fushigi Yugi: Byakko Senki.
24 volumes of Arata: The Legend have been released, as well as nine volumes of the Remaster edition. Viz Media publishes the series in North America and describes it like so:
In a mythical world where humans and gods co-exist, Arata has the unfortunate honor of being the successor to the matriarchal Hime Clan. This means he has to pretend to be a girl or face death if his true gender is discovered! On the day of his inauguration, an assassination plot forces him to flee – and he somehow winds up in modern-day Japan! Meanwhile, a boy named Arata Hinohara gets sucked into the first Arata's world and finds himself dealing with people after his life!