Why Chainsaw Man is a Must-Read Manga on the Shonen Jump App
Featured Spotlight: VIZ Media
Denji is a young man who finds himself in a tough position. He's broke, and the only way he can make ends meet is by hunting monsters known as Devils and collecting his meager rewards. His trusty chainsaw dog devil Pochita is always by his side, but things change when Denji is killed and Pochita has to sacrifice his own life to save him. From this day forth, Denji becomes the ruthless Devil hunter known as Chainsaw Man, and you can follow his journey from beginning to end with the amazing Shonen Jump app!
Chainsaw Man comes from the mind of Tatsuki Fujimoto, who you may remember from his previous series, Fire Punch. This one is completely unlike anything else you'll find in the pages of Shonen Jump. It's more than just the bloodshed and the dark but humor-tinged storyline; Chainsaw Man isn't afraid to get weird. We're talking really weird, from the incredible monster designs to Fujimoto's wild linework, which is somehow both precise and unpredictable.
That unpredictability extends to the story itself, which has Denji using his new powers as Chainsaw Man as a member of the Devil Extermination Team. All Denji wants to do is have enough money to eat a decent meal and, you know, touch a boob, but he's going to have to put the work in and get his hands and chainsaw blade dirty if he wants to accomplish any of his modest goals.
Half of the drama and humor comes from Denji's attempts to get along with his partners and superiors, from senior Devil Hunter Aki to the unhinged Blood Fiend known as Power. Can Denji, or any other member of the team for that matter, even trust Power to work alongside them without killing them first? No matter how tough the relationships in Chainsaw Man get, the gruesome villains are even tougher, so there's always something else for Denji and co. to focus on.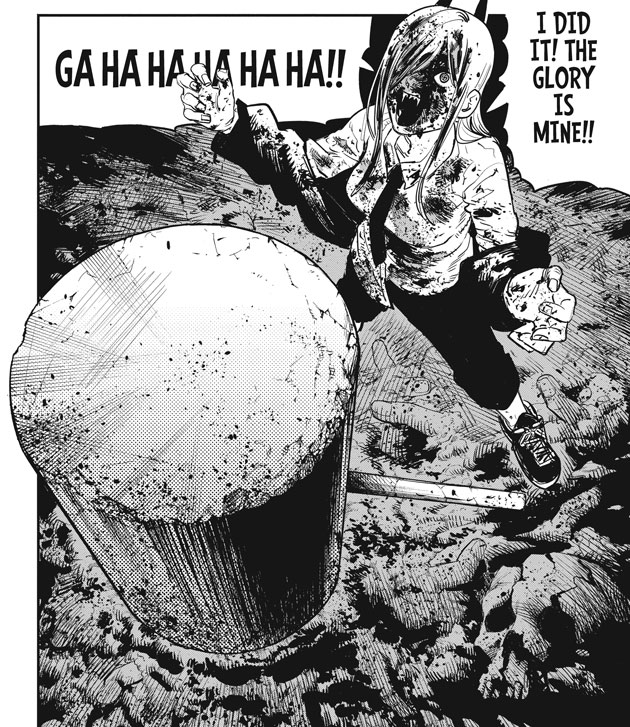 It's not easy being Denji, but it is easy reading Chainsaw Man. Fujimoto-sensei has completed "Part 1" of the manga, so you can read it from beginning to end while we wait for the MAPPA-produced anime adaptation and the eventual debut of Part 2. There's no better way to blaze through it than with the Shonen Jump app, which offers the latest chapters of a ton of hit manga for free the same day they come out in Japan. You can also become a member for just $1.99 a month to access the digital vault of 10,000+ manga chapters, including pretty much every Shonen Jump series published in English, so sign up for your free 7-day trial today!
** This article was sponsored by VIZ Media **