Universal Studios Japan Getting Limited-Edition Demon Slayer Restaurant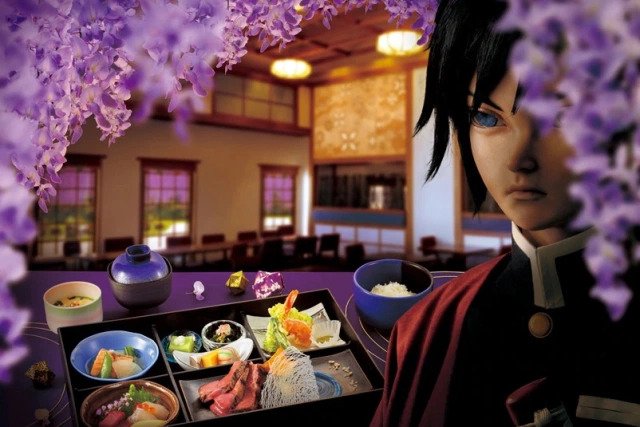 Universal Studios Japan is getting Demon Slayer attractions, including the "Demon Slayer XR Ride" and the "Hollywood Dream the Ride." So what else does the theme park need to stay with the theme and get the tourists in? That's right — Universal Studios Japan is opening a special Demon Slayer restaurant.
The Japanese name for the place is Fuji no Hana Shokujidokoro, which translates to Wisteria Restaurant. Get the reference? The restaurant will have plenty of wisteria decorations, plus statues of Giyu and Shinobu that will look uncannily real. People are encouraged to take pictures of themselves posed next to these life-sized statues as part of the fun. You can see a bit of Giyu in the picture above, but no photo has been revealed yet of what the Shinobu statue will look like.
Some of the themed items on the menu include "Hashira Tengen's Modern Sushi," "Hashira Mitsuri's Pork Cutlet Set," and "Hashira Sanemi's Ohagi Rice Dumplings." Shinobu's ice cream comes with jellies shaped like butterflies.
There are also themed drinks to keep your thirst quenched as you eat. The Blackcurrant Yogurt Drink is themed for Obanai, the Sky Blue Soda is for Muichiro, and the Milk Hojicha tea brings to mind Gyomei.
If you want to grab something to eat at the restaurant that you can take with you, then there's the option of "Nezuko popcorn buckets." But instead of buttery popcorn like you get at a movie theater, this will have a honey plum taste.
The themed Demon Slayer restaurant, along with the Demon Slayer attractions, are meant to be limited-time only. They will make their debut at the park on September 17 and stick around until February 13. They'll be lots of Demon Slayer memories to be made at Universal Studios Japan for anyone who's able to go there!
Source: SoraNews24
____
Danica Davidson is the author of the bestselling Manga Art for Beginners with artist Melanie Westin, and its sequel, Manga Art for Intermediates, with professional Japanese mangaka Rena Saiya. Check out her other comics and books at www.danicadavidson.com.