The 5 Best Jojo Nendoroid Figures Available Now
No anime has captured fans' attention like Jojo's Bizarre Adventure. Even those who haven't watched an episode have been touched by it through memes of different sorts. Powerful characters, intriguing fashion sense, and the main protagonists all going by the name "Jojo" make this visually stunning work stand out from the rest.
For hardcore fans of the series, having figures of their favorite character to stan is crucial! Otaku USA wishes to bring attention to a smaller category of figurines that while smaller and less stunning than the anime, still hold a powerful aura that will cause all to stop and fall under their influence. Here are our top 5 Jojo nendoroid figures!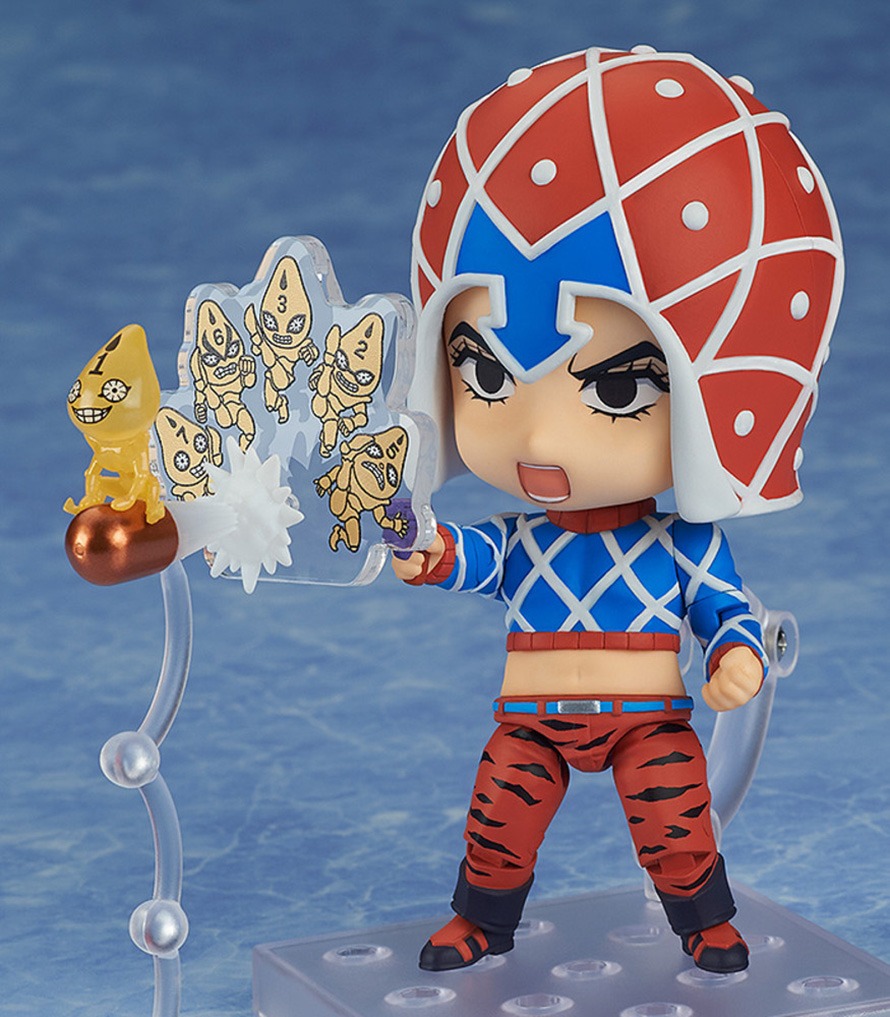 Rounding out our picks is a stand user with a pretty cool ability. Guido Mista joins us to show off how you better not be in the sights of his gun. He only needs one shot to take you down and make sure you stay down permanently!
Pros: This one truly shows off the colorful outfit this character is known for wearing! The colors and design are very show accurate. We do have a trio of faceplates that show the many sides of this character. We couldn't help but find his hand piece with bullets for his included gun was really cute. There are also pieces included that show off his stand ability. The creators have taken care to ensure that a certain number does not show up. We got thrown for a loop when we were counting the bullets in the effect piece and couldn't find a certain number. Then we remembered this guy's quick. That is really cool attention to detail!
Cons: This is another one set for December 2020 for release as of the time of writing, so sign up quickly if you wish to own him! We're not very impressed with one of his faceplates. It's a rather neutral expression that doesn't seem to fit him well. This is a fellow who is seen as more expressive compared to the others on his team. His other face choices are awesome! We love his smirk/smile! Why not give him a third unique expression? He has this eye-squint looking down the barrel of his gun look that would be great for recreating him using his stand! Why not go with that over pain neutral expression?
Our fourth pick shows off another assassin in the form of Prosciutto. Tall, blond, and ready for anything, this serious-faced man looks ready to slay anyone who threatens him. Adding him to your collection is a great choice in showing the others how to have a perpetual game face.
Pros: It is incredibly difficult to create a sculpt in this form for a serious character. This one does a great job keeping his continuous serious mode even in a cuter form. His faceplates reflect his personality as no hint of a smile is to be seen. He comes with the usual posable features allowing him to stand stoically or enter the fray. He does come with Mista's gun if you desire to recreate a certain scene from the show.
Cons: Late January 2021 is the release date for this number, so add your name to the email list if you want a chance to own him. This Grateful Dead stand user doesn't come with any parts that reference his ability sadly. Seems he only comes with the gun in assisting with recreating scenes from the show. More background pieces would be nice for this master assassin. This guy is amazing, and we would like more pieces to help show off how cool this guy is!
Sneaking in at number 3 on our list is Risotto Nero. This epitome of an assassin appears ready to do his job to the best of his ability. Be grateful that he's on your side, but beware of the fact that he ever disappears from your shelf that he may be coming after you!
Pros: The detailing on this figure is amazing! The little details such as the metal touches on his outfit and the hanging bits on his hood are remarkable! He comes with 3 faceplates that show the powerful yet calm demeanor of this skilled killer. There's this one facial expression when he looks like he's staring you down that gives us chills! He has the usual points of articulation that allow for many posing possibilities. Stand pieces for his Metallica ability are included.
Cons: As of the time of writing, this pick has a late December 2020 release date, but you'll have to subscribe to an email list to await your chance to own one of these amazing figures. We do wish that he came with more accessories for recreating scenes, but we are happy with the stand pieces that we did get. It seems that the lower part of his jacket can act as if it is flowing in the wind, it would be cool if the dangly bits on the hood could do the same for fight scenes.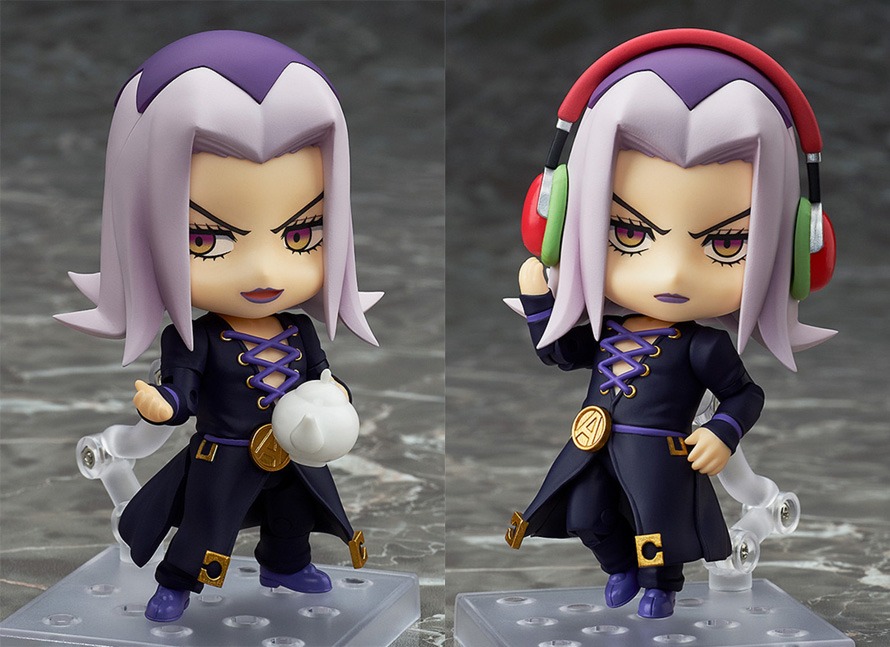 Our second choice shows off Leone Abbacchio in all his gloomy glory. This policeman-turned-villain is easily recognizable in this form thanks to the care taken to faithfully translate his look into our world. We can only hope that he'll ask us to enjoy a cup of tea with him so we can try to cheer up this Moddy Blue stand user.
Pros: His look is extremely hard to create this kind of figure for. He is a hurting man who dresses the part of a broken soul. Creating that look is hard to do, and this does a pretty good job at it. He does come with three face plates alone with his headphones and teapot. The articulation in the neck, arms, and legs allows you to pose this fighter to be ready for battle or be at peace depending on the situation.
Cons: At the time of writing, this choice is only available for preorder with a release date of late March 2021. If awaiting spring before you can own him works for you, then order him immediately. While they did their best to recreate his look, we feel that some tweaks could have given him a more formidable appearance. The hair feels a little bit off since it isn't hugging his shoulders as it does in the anime, and the purple part at the top of his head could be a duller purple. Also, he doesn't come with any pieces that reference his stand Moody Blue. It would be cool to have some sort of background piece for recreating scenes from the show, but otherwise, this is a labor of love that did its best to show off a very complex individual.
Our top pick is for one of the main protagonists. Here we have Josuke Higashikata in his usual outfit. He's ready to go if need be or to just stand around giving off a cool persona that will have all in awe that such a flamboyant personality is a kind soul underneath.
Pros: As these types of figures go, they did a great job translating his look from screen to a 3D model. Crafting that pompadour so it doesn't look goofy is a feat of magic in itself! He comes with three face plates, including his "Dora Dora" face that hardcore fans know all too well as his game face. He has articulation at the neck, arms, and legs, allowing for battle poses as well as standing at ease. He comes with plenty of accessories, including a representation of his stand Crazy Diamond. This figure has everything he needs to prove his protagonist status.
Cons: At the time of writing, this figure is out of pre-order, meaning you'll need to subscribe to a waiting list for the late December 2020 launch date. While this figure is well detailed for the type that it is and comes with some great accessories, we do wish they had some more pieces for Crazy Diamond. The effect piece is pretty cool as it shows off the multi-fist attack rather well, but we do feel that more could be done to show off the power this character possesses.
---
However you've experienced the anime, there is a nendoroid version to grace your shelves! You can choose from powered protagonists to gloomy villains to master assassins. This anime is well-beloved, and these figures are proof of that! People want to show love for these characters and have gone to great lengths to provide a quality product that is show accurate, allowing for the casual fan and the hardcore to rejoice. So, when you're ready, take your pick from our list to add these wonderful characters to your collection.
Otaku USA may earn a small commission on purchases made through links on this article.