Toonami: Space is Still the Place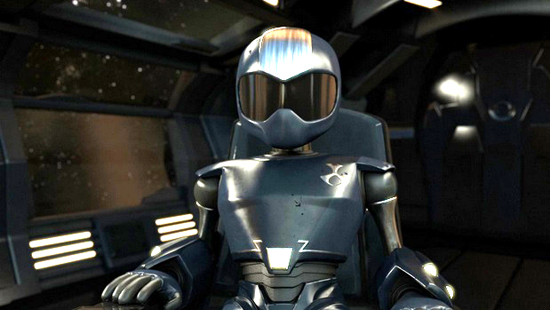 Space is the place and Saturday nights belong to the fighters. If you're an anime fan and grew up in America, there's a good chance you're were well-acquainted with Toonami. It created an entire generation of anime fans and went above and beyond the expectations of what a television block should be. And it's time to say happy birthday.
Well, not exactly happy birthday, but an anniversary of sorts. Fans everywhere died a little when Toonami was shut down back in 2008. The cancellation came after the growth of online streaming along with low ratings and poor decisions made by Cartoon Network. Fan projects like NeoToonami sprung up to keep the spirit alive, but we still missed the old block. But no one expected what would happen on April Fools' Day 2012. Instead of its annual airing of The Room, viewers were treated to our old pal TOM piloting The Absolution. Word spread quickly and gave birth to the #BringBackToonami campaign. On May 26 of that year, Toonami got its permanent place in Adult Swim and TOM strolled onto the bridge of The Absolution to Richie Branson's "Toonami's Back, Bitches".
The revived block started out as three hours long with a repeated airing, but was soon expanded to six. The block is a lot stronger now that the schedule is decided by Toonami and not the network. Now instead of monstrosities like Wulin Warriors, we've gotten shows like Deadman Wonderland, Attack on Titan and Sword Art Online. But the most interesting addition to the block has been Space Dandy.
What's the show about? A dandy guy in space, of course! Space Dandy is a show from Shinichiro Watanabe and Bones Studio which can be best described as the following: Douglas Adams tells the story of Johnny Bravo who was inspired to be a bounty hunter after watching Cowboy Bebop. The reason this show is so important to Toonami is that every new episode is a world premiere. That's right, Toonami airs episodes of Space Dandy before they're even shown in Japan. The block also got an extra half hour thanks to this show. Hopefully Space Dandy will open the way for more anime to be dubbed and subbed simultaneously. Season 2 comes out this summer and I can't wait.
Almost as important as the shows Toonami premieres are the shows that it gave a second breath. Toonami has been really friendly to shows cancelled too soon like Sym-Bionic Titan and the Thundercats reboot. Beware the Batman and Star Wars: The Clone Wars are even getting the chance to show episodes that previously never made it to television thanks to their abrupt cancellations. Who knows, we might see any one of these shows get revived thanks to Toonami. A boy can dream.

Pictured: The Toonami Crew with a fan from the Make-a-Wish Foundation. 
It's been two years since the revival and the Toonami Crew has been busy. TOM and his ship have both gotten upgrades. They eventually revived Sara, TOM's AI companion who was originally absent due to budget restraints. Speaking of budget restraints, you should all know how much love the crew has for Toonami. They get paid nothing to work on Toonami, but they put in the work every week to make it happen. They've even released two new mixtapes featuring tracks used for Toonami absolutely free. Seriously, these people really deserve your respect. By the way, the crew will be doing a panel at Momocon tonight at 7pm. Show them some love while you're there.
Toonami is still alive and strong. It's all thanks to you, Toonami Faithful. Just remember that the block needs your support, so make sure you watch, tweet the show hashtags and spread the word. Want to be the first to know when something new happens to Toonami? Follow them on Tumblr; they post news there and have a Q&A every couple of months. Also, get familiar with the Toonami Faithful website and podcast. I'm looking forward to watching Toonami for a long time. Remember, it airs every Saturday from 11:30pm to 6:00am on Adult Swim. Tune in tonight to catch the Dragon Ball Z: Revenge of Cooler movie on the block. Stay gold.
Norbert Daniels Jr. is a freelance writer who won't be intimidated by criminal threats. Follow him on twitter @norbert_dan and read more of his work at The Late Night Gamer.