Tokyo Ghoul:re Anime Gets Second Season, Manga to End Soon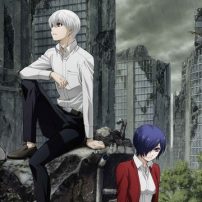 Last week, we got word there would be a big announcement re: Tokyo Ghoul:re.
As it turns out, there were two!
First, the good news. The anime adaptation, which is currently airing, has been given the okay for a second season. That second season will begin in October.
Next, the bad news: the Tokyo Ghoul:re manga will soon come to an end. Young Jump, in which the manga is serialized, says there are a total of three chapters left.
Still, it's been a good run. Sui Ishida started the sequel manga back in 2014, right after Tokyo Ghoul ended. The 16th collected volume will be released in Japan this July.
In the U.S., Viz Media is handling the manga. Here's how they describe it:
Haise Sasaki has been tasked with teaching Qs Squad how to be outstanding investigators, but his assignment is complicated by the troublesome personalities of his students and his own uncertain grasp of his Ghoul powers. Can he pull them together as a team, or will Qs Squad first assignment be their last?
Source: Moca News