Tokyo Ghoul Creator Sui Ishida Shares Moon Knight Crossover Illustration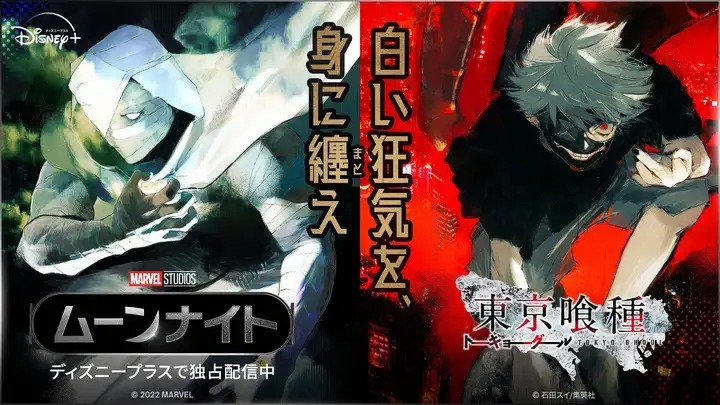 The worlds of Marvel's Moon Knight series on Disney+ and Tokyo Ghoul aren't actually crossing over anytime soon, but that hasn't stopped the author of the latter from creating a fitting illustration should such an event ever take place. Tokyo Ghoul manga author Sui Ishida shared a new piece of art celebrating the weekly streaming of Moon Knight while expressing his excitement for the series, and you can see the results above.
Ishida is most attracted to the "dark world, beautiful images, and ideas of 'sleep disorder' and 'insanity'." He first discovered an appreciation for Marvel when playing Marvel vs. Capcom with friends, and after watching the first few episodes of Moon Knight he thinks he may like him the most out of all the Marvel heroes.
"I could feel the dark charm of the world filled with fast action scenes and rough violent scenes that make it hard to call [Moon Knight] a hero," he continued. "I also liked the comical and sorrowful personality of the main character, Steven."
The anime adaptation of Sui Ishida's Tokyo Ghoul is currently streaming on Crunchyroll, and Moon Knight episodes stream every Wednesday on Disney+.
While we're on the topic, check out our list of anime heroes that give us serious Moon Knight vibes!
Via Crunchyroll