This Cup Noodle Commercial Will Blow Your Mind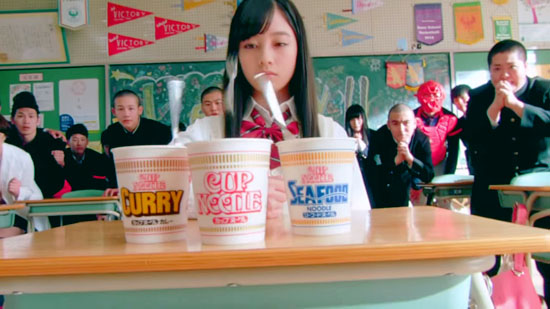 Bakkakkoii is a portmanteau of baka (stupid) and kakkoii (cool), and that pretty much describes exactly this recent commercial for Nissin Cup Noodle.
The commercial stars Kanna Hashimoto, a member of idol group Rev. from DVL who recently appeared in the live-action Assassination Classroom film.
In the ad, Hashimoto and friends pull off some amazing feats of (non-CG assisted) bakakakkoii stunts, all while promoting delicious cup ramen. Anyway, take a look for yourself, and see if you can pull any of these tricks off at home (we can see the triple fork one going horribly wrong, though…).
P.S. What's with the shots of the teachers fighting?
Source: ANN
---
Related Stories:

– Latest Cup Noodle Ad Features Magical Girl Transformations
– Vegeta Beats Up Veggies in Cup Noodle Ad
– A Visit to Momofuku Ando Instant Ramen Museum
– Ghibli Fan Makes Ghibli Food
– KFC goes DBZ to promote new film