These Chibi Anime Retellings Make Dramatic Stories Super Cute
Chibi or SD art is a mainstay of anime and manga. It brings a fun flavor to a story, either accentuating the comedy in a scene or just bringing the cuteness. While some shows use this style sparingly, others are drawn solely with this look. In fact, many of those are spinoffs of more serious shows, allowing the creators and voice actors to explore sillier angles not approachable in the original. Here are just a few chibi anime spinoffs that take shows from dramatic to darling.
Isekai Quartet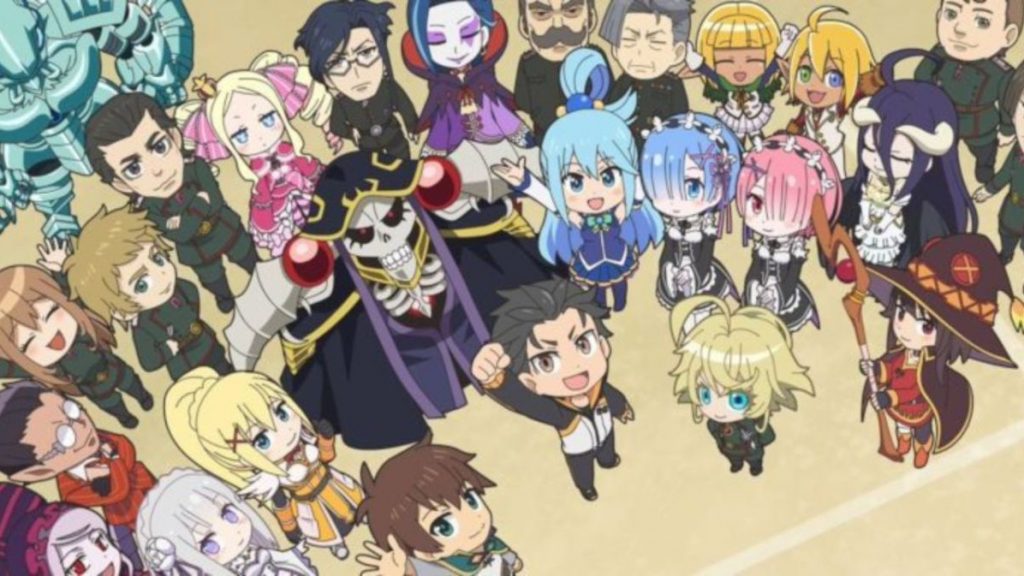 There's a ton of isekai anime out there, and more constantly being made. They run the gamut from the silliness of KONOSUBA to the psychological horror of Re:ZERO. But when they all get the chibi anime treatment in Isekai Quartet, the playing field is leveled considerably.
Isekai Quartet brings together KONOSUBA, Re:ZERO, The Saga of Tanya the Evil, and Overlord. The four casts of characters are assembled in what appears to be a typical Japanese high school. That's fine for our dimension-hopping heroes, but an odd experience for their otherworldly friends. What exactly is this place? How can they get home? When did Naofumi from Rising of the Shield Hero get here? All these questions and more await.
Go Nagai World
Manga and anime legend Go Nagai has tons of titles to his name, and many of them have crossed over in the past. Notably, though, big hitters Mazinger Z and Devilman teamed up in the chibi anime Go Nagai World. But there was lots more to the show than simple crossover antics.
Akira Fudo, Koji Kabuto, and their allies and enemies find themselves in a strange chibi world where their storylines collide. Why this happens, though, is for a much deeper reason than anyone was prepared for. We won't spoil it for you… but we will say that writers, artists, and other storytellers will find the back story of this new setting incredibly relatable.
Get Go Nagai World from Discotek!
Bungou Stray Dogs Wan!
You'll have to wait a bit to watch this particular chibi anime, based on the Bungou Stray Dogs Wan! gag manga. Like other chibi series, Bungou Stray Dogs Wan! uses chibi stylings to explore aspects of the original story in a more lighthearted way. You can look forward to retellings of the Armed Detective Agency's adventures as you know them, with extra details and extra cuteness. As to why they and the Mafia have been chibi-fied… well, that's another question for another day. Look forward to Bungou Stray Dogs Wan! in January!
What other chibi anime are you a fan of? Is there an anime you can think of that deserves a chibi retelling?