THE DEBUT OF "OTAKU-VERSE ZERO"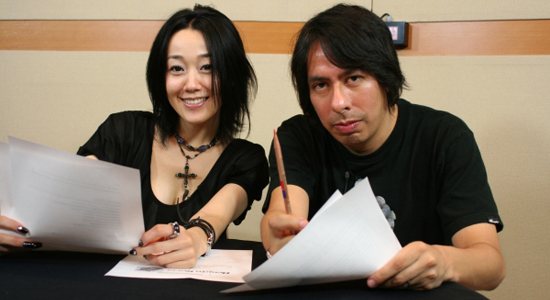 Tough work, but someone has to do it.
https://www.youtube.com/watch?v=GbpE4Wv0xsc
Dear Otaku USA readers (website, magazine, or otherwise)! This is your humble editor-in-chief inviting you to check out my new extracurricular activity: co-hosting a web show in Japan! And thus, do I give you episode zero of OTAKU-VERSE ZERO, a new entertainment program for not only American otaku, but OTAKU ALL OVER THE UNIVERSE!
The show is produced by "Japanese internet radio" company K'z Station who produce numerous talk programs featuring comedians, voice actors, and idols such as SKE48.
My co-host is none other than famed voice actress Yuu Asakawa of Final Fantasy XIII, Super Robot Wars, and (my personal favorite) Bubblegum Crisis Tokyo 2040.
In this first episode, we sit around and play "getting to know you", but future installments will see us creating havoc on locations such as Akihabara, Nakano Broadway, Asakusa, and points in-between.
This "Introduction" will be up until 11/29, then new episodes will debut every week online at https://www.kzstation.com/ovz/.
I hope it will thrill you! Please enjoy it and thanks for watching!
Patrick Macias is the editor-in-chief of Otaku USA magazine. He can be found on-line at www.patrickmacias.blogs.com