Sword Art Online Movie's Home Video Release Previewed
One of the big anime home video releases this year is Sword Art Online the Movie -Ordinal Scale-, which is coming to Blu-ray and DVD on December 19. With pre-orders live, Aniplex of America shared a new preview hyping up its impending debut.
The Ordinal Scale set packs the movie with a handful of bonuses, including audio commentary and a special Sword Art OFFline -Ordinal Scale- short animation. There's also a bonus music CD, a deluxe 60-page booklet, and Bushiroad's Weiß Schwarz Exclusive Collectible PR Card.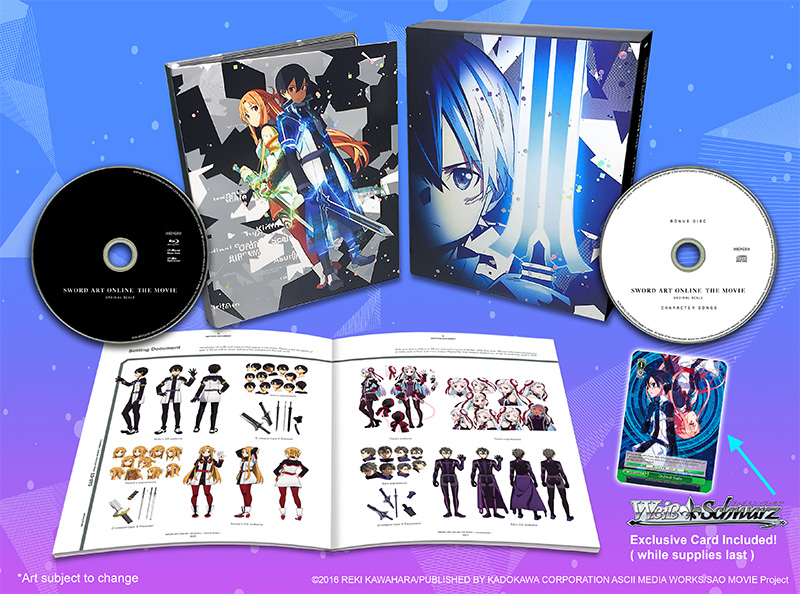 Aniplex of America's description:
The NerveGear, the world's first dedicated full-dive device developed by the genius programmer, Akihiko Kayaba in 2022…a revolutionary machine that opened up infinite possibilities for the world of VR (Virtual Reality). 4 years later…. A next-generation, wearable multi-device called the Augma has been released to compete with the NerveGear's successor, the Amusphere. A cutting-edge machine boasting the ability to enhance AR (Augmented Reality) to the maximum, the Augma offers a safe, user-friendly experience, as it can be used while the player is awake, making it an instant hit. Its most popular title is an ARMMORPG developed exclusively for the Augma, "Ordinal Scale (a.k.a. OS)." Kirito is about to join Asuna and the others as an Ordinal Scale player, but they're about to find out that it isn't all fun and games…
Season 3 of the main Sword Art Online anime series will be arriving in October.