Sue & Tai-Chan Is More Cat Goodness from Chi's Sweet Home Creator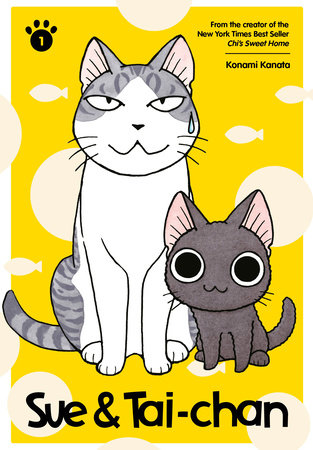 Konami Kanata showed her skill at making cat stories with her very adorable and very successful Chi's Sweet Home. Now she's back with Sue & Tai-chan, another feline franchise.
Sue is a 17-year-old cat used to living with her master and no one else. She sleeps most of the day away. Tai-chan is a little black kitten in need of a home. Sue's master ends up taking in Tai-chan, and thus starts a companionship between an elderly cat and a kitten who's brand-new to this world.
Sue is uncertain of Tai-chan at first, but ends up being a good mentor for him. The cats "meow" at each other in speech bubbles, but are able to communicate with actual words that seem to be the translations of the meows. The chapters are short, the manga is short, and the pages are in full color. There's no heavy-duty plot or deep character development here. It's just about cats and the enjoyment of cats, and cat lovers can see amusing cat mannerisms make their way into the story. Sue is the recognizable slow but loyal older cat, and Tai-chan is the bundle of energy.
Each chapter is a little adventure, like playing hide-and-sneak or learning the proper way to wash one's face. The book is technically aimed at 10+, but it's really an all-ages manga that younger kids could read and enjoy, as well. The art and story are both adorable and sweet, as expected. This is a laid-back read meant to make you smile and maybe laugh a little.
Sue & Tai-chan would be recommended for fans of Chi's Sweet Home or endearing cat stories in general, no matter what the reader's age.
Story & Art: Konami Kanata
Publisher: Kodansha USA
____
Danica Davidson is the author of the bestselling Manga Art for Beginners with artist Melanie Westin, and its sequel, Manga Art for Intermediates, with professional Japanese mangaka Rena Saiya. Check out her other comics and books at www.danicadavidson.com.