Sound! Euphonium: Chikai no Finale Film's Key Visual, Details Revealed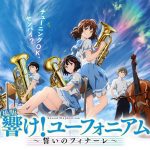 Fans of Sound! Euphonium: take note.
Back in 2017, it was announced that not one but two original films set in the world of Kyoto Animation's Sound! Euphonium would be released in 2018. (The first of those, Liz and the Blue Bird, came out in April.)
Now we've got more details about the next film, including a title, key visual and release window.
The film is entitled Sound! Euphonium: Chikai no Finale (Oath's Finale) and will tell the story of main character Kumiko as she becomes a second-year student. It's directed by Tatsuya Ishihara, who directed both seasons of the series.
The poster features the tagline "tuning OK, senpai?"
Now the bad news: originally slated to open in 2018, the film has been pushed back to spring 2019.
Still, it's hard to feel too disappointed: after all, we've already gotten one excellent Eupho film this year. Here's looking forward to another one in 2019!
Source: ANN