Shin Godzilla Producer Talks Hideaki Anno, Future of Franchise at Film Festival
Left to right: Akihiro Yamauchi, Isshin Inudo,
Kohei Ando
Shin Godzilla, which opened way back in July, is still stomping its way through Japanese theaters.
"I just met someone the other day who's seen it 50 times," said Akihiro Yamauchi, taking the stage after a screening of the film at the Tokyo International Film Festival on October 30.
Yamauchi, who produced the mega hit, was there for a short Q&A session with festival programmer Kohei Ando and director Isshin Inudo, who were brimming with questions for the producer.
Ando started with the basics: "how did this project get started?"
"For Toho, Godzilla is one of our top properties," said Yamauchi, "but after Final Wars, we felt it wasn't the right time for Godzilla movies. Ten years passed, and we realized there would be an entire generation who weren't familiar with Godzilla, so three years ago, we decided to go for it."
Yamauchi added that the 2011 earthquake, tsunami and nuclear meltdown became a source of "fear and anxiety in Japan," and that it was important to "use Godzilla as a symbol to depict that fear and anxiety."
Inudo, a director who worked with Shin Godzilla co-director Shinji Higuchi on 2012's The Floating Castle and makes a cameo in the new Godzilla film, contrasted the co-directors, saying that while Higuchi is a "craftsman," Hideaki Anno is "an artist."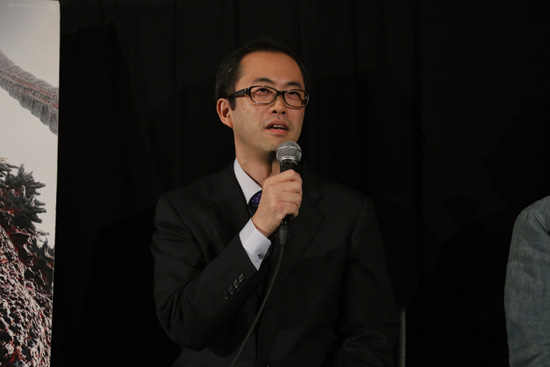 Inudo continued, "didn't you think it was dangerous to ask Anno to make it?"
"Well, yes," Yamauchi responded, "I was a bit worried."
Those worries were compounded when Anno turned in a gigantic script that, based on page count, looked like it would be three hours. Inudo asked what went through Yamauchi's head when that gigantic script landed on his desk.
"I knew I'd have to cut something. I thought about cutting the climax entirely. Looking back now, I realize that would've been impossible. But I was worried."
Yamauchi continued, "Anno told me, 'no, we'll definitely make it two hours.' I thought, 'yeah, right.' I've heard so many directors tell me the same thing."
The producer decided not to go into production before he could be sure of the two-hour runtime, so he hired a group of voice actors to do a radio drama-style reading of the script. The result: 97 minutes.
"With the action scenes, plus the end credits, it came in at two hours. That convinced me a little bit."
Still, that was a team of professional voice actors: Yamauchi was worried the actors on set wouldn't speak as quickly. Anno insisted they would. But, added Inudo, Anno isn't the type to give his actors much direction.
"That's the brilliant thing about Anno and Higuchi doing it together," said Yamauchi, "they really balance each other out."
"There's no other Japanese film starring so many middle-aged guys," said Inudo.
Inudo agreed: "Higuchi is an amazing director. He knows when to push and when to let go. But Anno doesn't know how to let go. He's an artist. You (Yamauchi) placed your trust in those two, and that's why the movie turned out so well."
"It's more like I was deceived," Yamauchi responded dryly.
When the panel moved to the audience for questions, a member of the press expressed similar surprise that Yamauchi allowed Anno such free reign with the franchise.
"Godzilla is one of our most precious assets, so naturally we have some rules about what you can and can't do," said Yamauchi, "but on the other hand, there's no point or profit in doing the same thing over and over."
The producer continued that one touchstone for the Godzilla reboot was the Alien franchise, in which each film is directed by a new director who adds his own unique touch.
"We wondered if we couldn't do the same thing," he said, "and that's why we chose Anno for a proper rebirth."
Asked about plans for the future, Yamauchi didn't reveal much, only reminding the audience the next Hollywood version, and the recently-announced anime, are on the way.
Do Yamauchi's comments about the Alien franchise hint there may be a new director for the next Japanese film? Or considering the monster box office, do you think the studio will bring Anno back?
Matt Schley is Otaku USA's man in Japan. Check out his Shin Godzilla review here.
An earlier version of this story said Inudo co-directed Hidden Fortress (2008) with Higuchi. They actually co-directed The Floating Castle (2012). Thanks to Don Brown for the correction.