Seven Seas Licenses Ghost Diary Manga & More
Seven Seas Entertainment came through with some more licensing announcements this week, starting with Seiju Natsumegu's supernatural manga Ghost Diary. The first volume will make its North American debut on April 18, 2017.
Here's how Seven Seas describes it:
Ghost Diary is a new ongoing manga series about a young exorcist's search for his sister after she vanishes, leaving behind only a mysterious notebook filled with secrets about hunting ghosts. The beautiful artwork and haunting tone of the series will make it a must-have for supernatural manga fans. 
Sukami Kyouichi comes from a family of exorcists, the strongest of whom has always been his sister, who keeps a special notebook by her side that details how to defeat even the most malevolent of ghosts. One day, shortly after his sister rescues young Kyouichi from a haunted shrine, she goes missing. Six years later, with only the notebook as his guide, Kyouichi is confronted by someone claiming to have been his sister's friend. Who is this stranger, and what does she know about his sister's disappearance?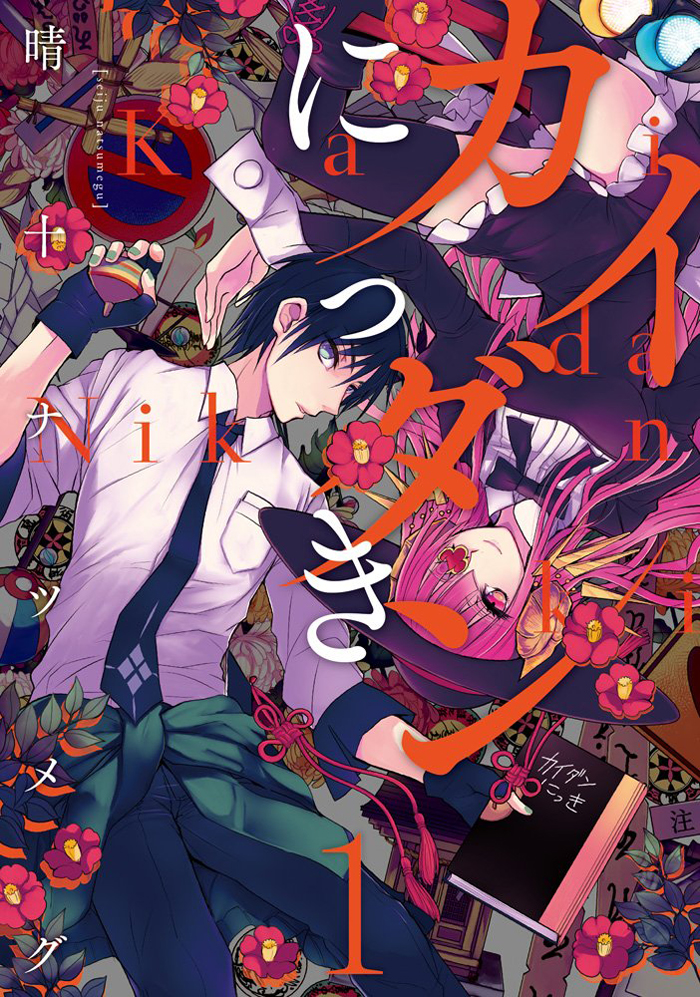 Next up is Kindred Spirits on the Roof, a manga companion to the popular yuri visual novel. The single collected omnibus volume will hit bookstores in North America on January 31, 2017. 
Synopsis:
Kindred Spirits on the Roof is a yuri manga omnibus based on the visual novel game of the same title. The story follows multiple schoolgirl romances—with some ghostly interference! Two friendly spirits inhabit the rooftop of an all-girls' school and, inspired by their own feelings of unrequited love, try to make more yuri couples among the living students. The Kindred Spirits on the Roof game has been localized into English by MangaGamer and is available for download on the popular digital game platform, Steam. 
Mako and Shiori have been best friends since they were children, but when Mako suddenly confesses her love to Shiori, all Shiori can do is run away! One year later, Shiori sees Mako and decides she wants to rekindle their friendship. Can the two girls go back to their relationship the way it was before or are they ready for it to evolve into something else? 
Meanwhile, fellow student Hase Chiharu loves seeing yuri romance play out. For that reason, she becomes enamored by two senior classmates, Natsuki and Rika, a power couple in the school's Quiz Show Club. When Chiharu joins the club so she can be closer to them, she meets the adorable Tokino. Tokino can't take her eyes off their beautiful upper classmates either, and as Chiharu and Tokino observe the couple together, their own sweet relationship begins!
The yuri manga continues with Milk Morinaga's ongoing Hana & Hina After School, which will arrive in print with the first volume on March 14, 2017.
Synopsis:
Hana & Hina After School is an all-new manga series by Milk Morinaga, a beloved creator known for her critically-acclaimed works in the yuri genre, including Girlfriends and Kisses, Sighs, and Cherry Blossom Pink. Hana & Hina After School is a romantic comedy about two dissimilar girls who find common ground when it comes to all things cute! 
Hana and Hina are two high school girls working at the same character goods shop, but they are completely different from one another. Hana is petite, uncertain and shy, while Hina is tall, confident, and trendy. Yet they share a secret: their school has a strict policy against taking part-time jobs. They also discover that both of them share an irresistible attraction to things that are cute, be it the uniforms at their all-girls' school or…each other! Just how long will Hana and Hina be able to keep their afterschool jobs, and their feelings for each other, a secret?
And then we're on to supernatural comedy with the license of Kawakami Masaki and Hato's There's a Demon Lord On the Floor. The first volume will be released on February 28, 2017. 
Synopsis:
There's A Demon Lord on the Floor is the newest manga series that asks the perennial question—can a Demon Lord truly make it in the world of human cuisine? This colorful comedy full of lively characters and delectable food follows the adorable Demon Lord, Amon Patricia, as she works at a restaurant, learning the ropes of human customer service and tasting the great foods our world has to offer!
Amon Patricia is a powerful Demon Lord who one day finds herself on the receiving end of a vicious attack by the Clan of Light. Fleeing to fight another day, Patricia finds herself in the human world! Looking to blend in, she immediately seeks work and finds herself on the doorstep of the Humming Dining restaurant. She falls in love with their cooking immediately, and now the head chef has plenty more on his plate as he must sate the Demon Lord's appetites, while shaping her into the perfect employee!
In addition to the new licenses, Seven Seas announced plans to expand its digital manga library onto Barnes & Nobles' NOOK platform. Launch titles include Dragonar Academy, Magika Swordsman and Summoner, Amazing Agent Luna, Witch Buster, and more.