See the First 12 Minutes of the new Ghost in the Shell Movie
We're only a few days out from the June 20 premiere of the new Ghost in the Shell film (Kokaku Kidotai Shin Gekijo-ban), the theatrical conclusion to the recent Ghost in the Shell Arise series.
In order to build hype for the release, the official website for the film is streaming its first 12 minutes.
The film begins with Motoko Kusanagi and her team dealing with a hostage crisis. Meanwhile, the Fire Starter virus again appears to challenge Kusanagi's team.
The new Ghost in the Shell film follows the recent airing of the TV version of Arise, which split the first four original video episodes into eight TV episodes while adding a new story called "Pyrophoric Cult."
The new Ghost in the Shell film is staffed largely by the same cast and crew as Arise, with Kazuchika Kase as chief director, Tow Ubukata as screenwriter and Cornelius providing the soundtrack. It adds to the creative team Kazuya Nomura (Robotics;Notes) as director.
Meanwhile, the official Twitter account for the franchise has been counting down to the premiere of the film with a series of illustrations by guest artists.
What are your impressions after seeing the first 12 minutes of the film? Will this be a movie worthy of the Ghost in the Shell name? Let us know.
Source: ANN
---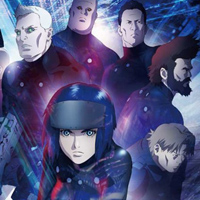 Related Stories:

– New Ghost in the Shell Anime Film Previewed
– Ghost in the Shell 2015 Anime Gets New Teaser And Key Visual
– New Ghost in the Shell Film Announced for Summer 2015
– Ghost in the Shell Movie Planned for 2015
– Johansson: Ghost in the Shell is Really Happening