See How the Perilous Adventure Begins in Made in Abyss: Journey's Dawn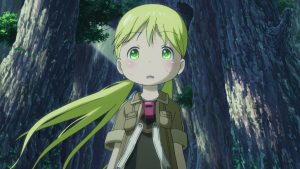 Featured Spotlight: Fathom Events
The deeper you go, the more difficult survival becomes, and any attempt to return brings about its own unique perils. This is the reality of The Abyss, and 12-year-old adventurer Riko and her new robot friend Reg are about to find out just how serious it all is in Made in Abyss: Journey's Dawn. The first of two feature anime films is coming to U.S. theaters on March 20 and 25, and you can secure your tickets now.
Riko and her friends are currently Red Whistle Cave Raiders, which means they can only go so deep into the awe-inspiring, treasure-filled Abyss. When Riko receives a message from her mother—who was previously thought to have died long ago—however, she decides to answer her call and explore the potentially deadly depths that await below.
Thankfully, Riko has a mysterious new robot companion named Reg to help her traverse the many perils before them both. Thus, they set out upon a harrowing, breathtaking journey into the Abyss, fully aware that those who venture too far sometimes never emerge. And when they do, they are forever changed.
Theatrical screenings of Made in Abyss: Journey's Dawn feature never-before-seen footage, exclusive interviews with the Japanese creators, and a behind-the-scenes look with anime studio Kinema Citrus. You won't want to miss this special event featuring one of 2018's breakout anime hits on the big screen for the first time. Visit the official website to purchase tickets for the March 20 (subtitled) and March 25 (English dubbed) showings today.
** This article was sponsored by Fathom Events **