Sasaki and Miyano is a Laid-Back Slice-of-Life BL Manga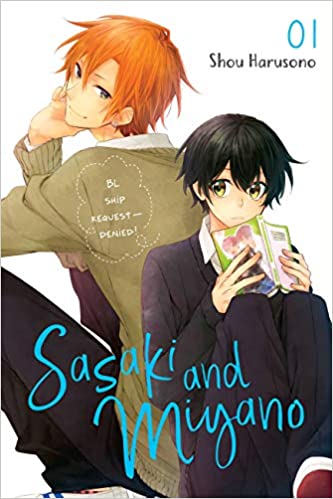 Miyano is a pretty high school boy who loves to read BL and who goes to an all-boys school. But he'll tell you up and down he's not into BL himself. He just likes to read it. He wouldn't want to do that in real life, truly.
The boy doth protest too much. On the first page he's trying to get help for a school fight he's witnessing, and soon a handsome upperclassman named Sasaki shows up for aid. Miyano, who insists he's not into BL in real life, watches Sasaki move and thinks, "Watching that senpai . . . from behind . . . filled me with a secret longing."
Flash forward to three months later. Sasaki likes to come up and hug Miyano at school, and call Miyano cute. He asks Miyano for manga recommendations, and a blushing Miyano hands over some BL manga. Sasaki ends up liking the manga and asking for more.
Obviously Miyano saying he doesn't like BL in real life is a gimmick, because he's falling in love with Sasaki. Miyano even comments on how things in his life are happening similarly to how a BL manga would read, and the characters refer to each other as Senpai and Kouhai (upperclassman and lower-classman) in a way that romanticizes their titles.
Sasaki and Miyano, which started out as a digital release in Japan, offers a first volume that's sweet and laid-back. There are panels that show yearning, but mostly it feels more slice-of-life than passionate. The mangaka often writes short little notes next to panels, and there's a concurrent story going on against the main story, where Miyano's class is going to be doing a maid café for their cultural festival. Just as Miyano insists he's not into BL in real life, he also insists on not dressing up like a maid, but he may not get what he wants there.
Sasaki and Miyano is on the lighter side of BL, where the characters have a quiet but blossoming relationship. It also has moments of humor. The franchise has proved popular in Japan, where the manga has spun off into novelizations and there will soon be an anime adaptation. This is for fans of BL who want something a little different . . . but not too different . . . and for the characters to have a mellow bearing with moments of silliness.
Story & Art: Shou Harusono
Publisher: Yen Press
____
Danica Davidson is the author of the bestselling Manga Art for Beginners with artist Melanie Westin, and its sequel, Manga Art for Intermediates, with professional Japanese mangaka Rena Saiya. Check out her other comics and books at www.danicadavidson.com.