We Rode a Zipline into Godzilla's Mouth (And Lived To Tell the Tale)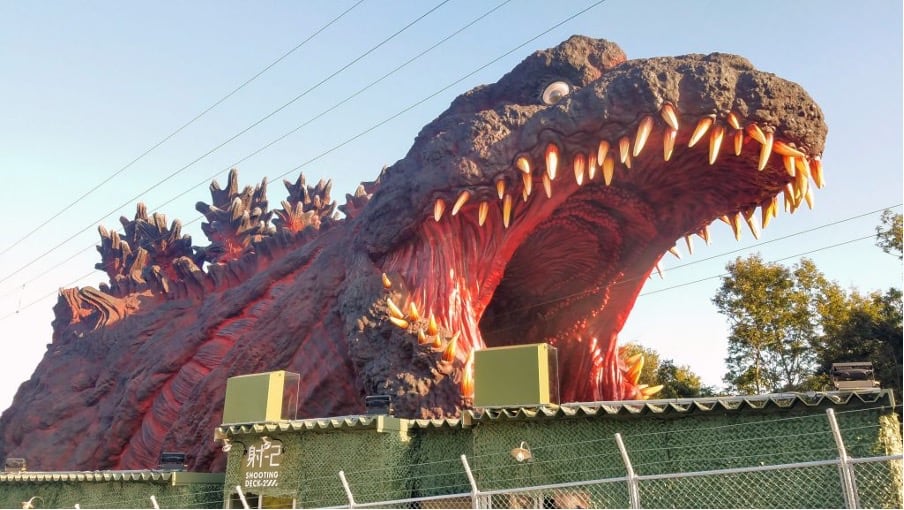 What's it like to zipline into the mouth of the world's first life-size Godzilla? No, not the stuff of kaiju fans' dreams—you can now do this at Nijigen no Mori. The Godzilla Experience – dubbed 'Godzilla Interception Operation Awaji' – opened at Nijigen no Mori on Awaji Island, Japan in October 2020, giving visitors the chance to fulfill their life's ambition of ziplining into Godzilla's mouth.
And not just any Godzilla. This is the world's first life-size Godzilla.
It can be found at Nijigen no Mori, in Hyogo Prefecture on Awaji Island, southwest of Osaka. In Japanese lore Awaji Island was the first island in the Japanese archipelago to be created.
Nijigen no Mori is a theme park of sorts with attractions based around famous Japanese cultural icons. There is a Naruto and Boruto area, a Crayon Shin-chan Adventure Park geared towards children and a Phoenix night walk light-up multimedia experience starring Osamu Tezuka's most personal creation. Now, the King of the Monsters joins with his own Godzilla zone.
The Godzilla attraction consists of an introductory movie, a Godzilla zipline, a shooting game, a Godzilla Museum, a shop and themed food.
First, you watch a well-made seven-minute introductory video explaining how Godzilla came to be incapacitated and dormant on Awaji Island. It's a slick film that sets you up for the upcoming fun. You are invited to become a member of NIGOD—the National Awaji-island Institute of Godzilla Disaster—and to head on several missions.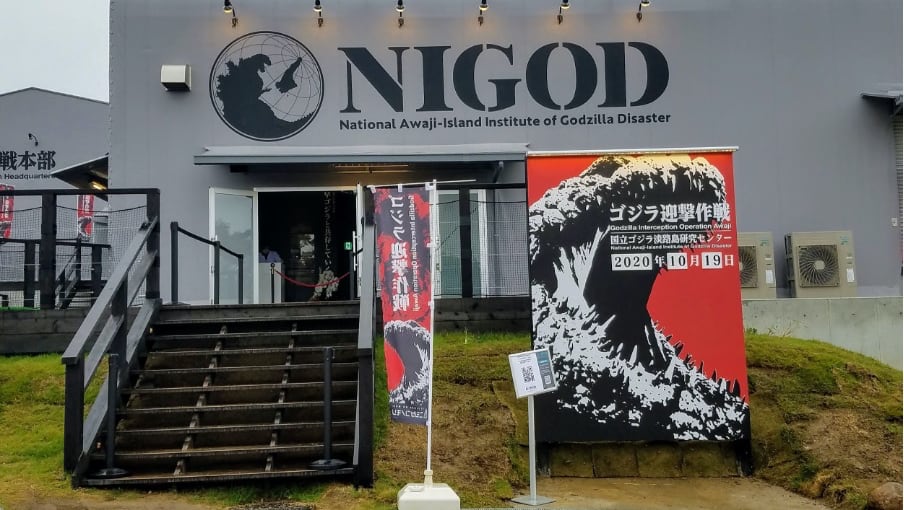 Then comes the zipline. After a safety briefing, you ascend the steps, anticipating the moment of truth. You can choose to zipline to the side of Godzilla (152m in length) or into the mouth of the dormant Godzilla (162m). Of course, I chose the latter. I've travelled to 108 countries, and seeing the mouth of the lifesize Godzilla rushing towards me is one of the most surreal things I have ever done. A neckstrap phone case is provided so you can photos and video during the ride without worrying about dropping your phone.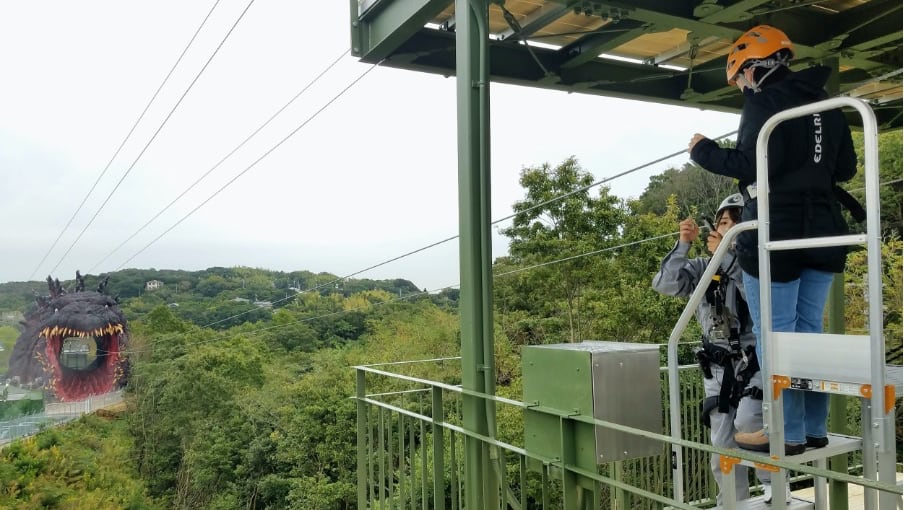 The fun doesn't end there. Next, you're off to the shooting game: The 'Anti-Godzila Cell Sniper Operation.' The aim is to remove as many of the scattered Godzilla cells as you can in two minutes, ducking down when the siren goes off which warns you of a 'high energy reaction of Godzilla cells.' It's high energy work!
After this you sadly have to return your NIGOD helmet. However, your disappointment is quickly assuaged once you head into the Museum of Godzilla, the world's first permanent such museum. It was co-created with Toho Visual Art Company, the team behind the Godzilla movie special effects. The museum is a feast for any kaiju or movie fan and features over 100 exhibits including costumes, props and production art from many Godzilla films from 1954 to the present. You can check out oxygen destroyers from the original 1954 Godzilla, the suits used in 2003's Godzilla × Mothra × Mechagodzilla: Tokyo SOS and the Gotengo from 2004's Godzilla: Final Wars amongst many other exhibits. The King of the Monsters is not the only one represented—fellow kaiju Biollante, Destroyah, Mothra, King Ghidorah and more are on display.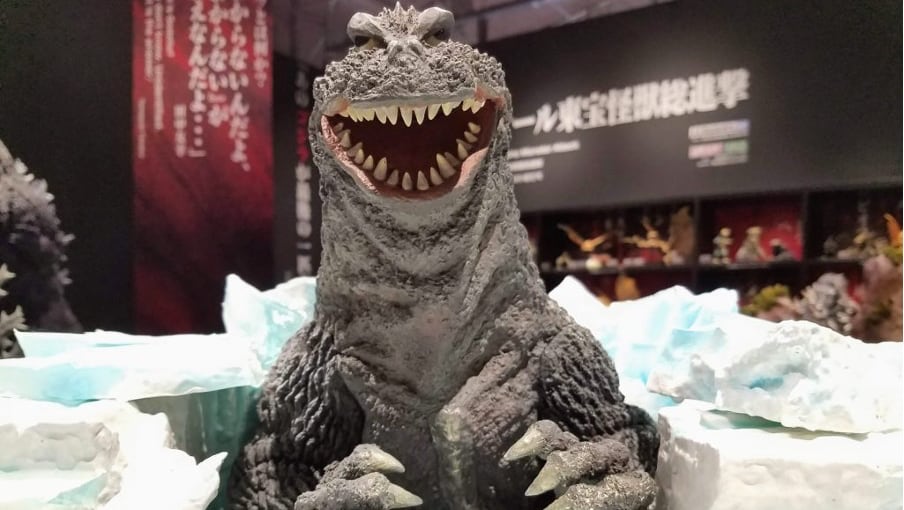 One of my absolute favourite statues was of Godzilla emerging from the ice at the North Pole from 1962. He's just too cute.
The merchandise in the shop contains almost any item imaginable in Godzilla livery, and includes some items only available at the Godzilla Experience on Awaji Island.
The food is pretty good considering that you are at a theme park. There are various main dishes and desserts themed around Godzilla and the pantheon of kaiju that inhabit his world. There is a Godzilla curry, made using Awaji onions, the island's most famous export. One of my favourites was the Waffle Chicken inspired by Monster Island, the island that the kaiju are said to inhabit—some deep cut cuisine!
I enjoyed the Godzilla Mabomen (pictured), which featured some impressive Godzilla tofu artwork!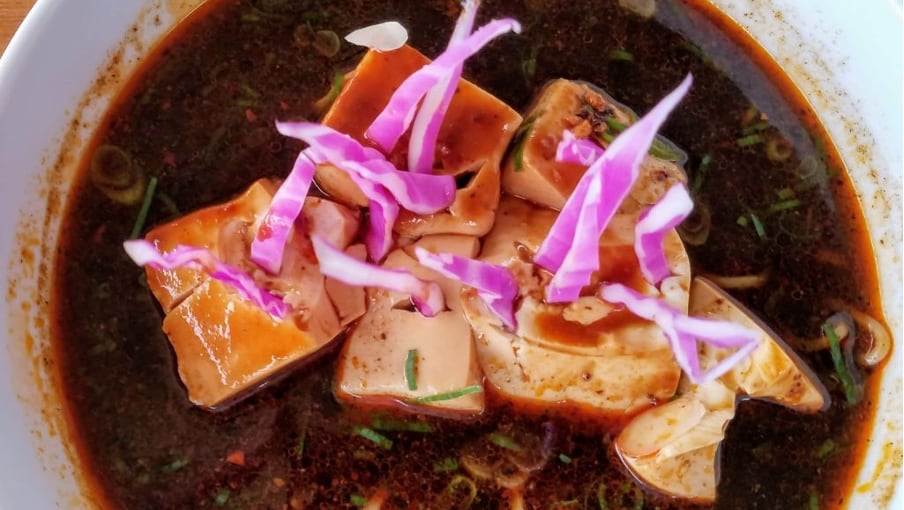 If you can stick around until the evening, Godzilla looks great lit up at night, too!
Overall, it's a fantastic experience. Entrance is ¥3,800 ($36) for those aged 12 and older, ¥2,200 ($20) for children aged five to 11, and free for children younger than four. Tickets for Nijigen no Mori's other attractions must be purchased separately.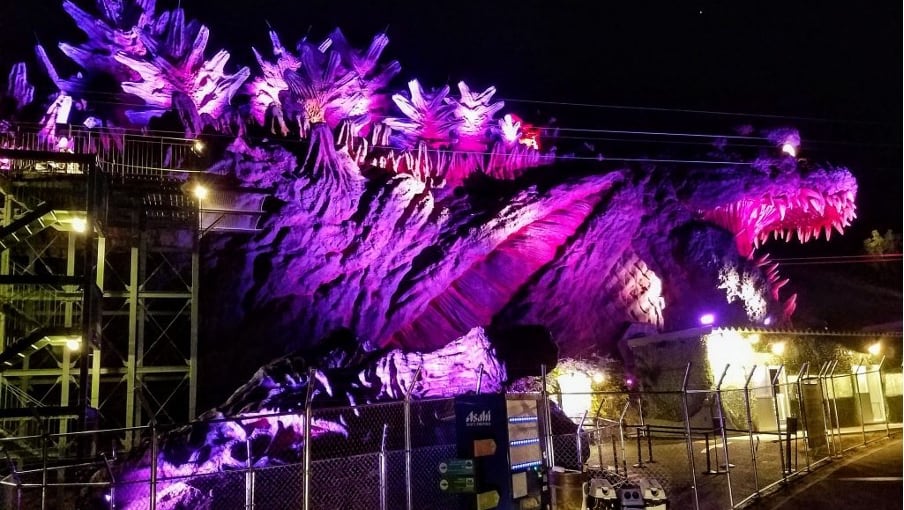 Mac Salman hails from England and has travelled to over 100 countries. A Tokyo resident for almost 15 years, Mac has been a respected analyst and commentator on Japan, its culture, art and economy, tackling subjects as diverse as the Tokyo Yakult Swallows baseball team to the impact of negative interest rates. He has been frequently quoted in the media, and has been featured in Reuters, The New York Times, The Japan Times, The (London) Times, Bloomberg, CNBC, Forbes, The Financial Times and SNL, amongst others. Mac is the Founder of Maction Planet, which specialises in Bespoke Japan Travel and Apparel. Amongst their many private tour offerings they run renowned specialised Tokyo Otaku Tours, and their T-shirt lines often involve collaboration with domestic and overseas artists.