Rascal Does Not Dream of Bunny Girl Senpai Gives Both Fanservice and Heart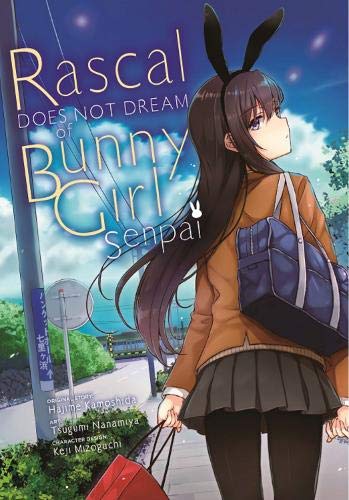 Sakuta Azusagawa, a high school boy with a cutting wit and no use for cell phones, is at the library one day when he notices a young woman walking around in a Playboy Bunny outfit. It's Mai Sakurajima, the famous actress and his senpai (hence the title, Rascal Does Not Dream of Bunny Girl Senpai). But no one else notices her.
As Sakuta and Mai get to know each other, Sakuta discovers people are continuously forgetting Mai, or looking right through her as if she weren't there. Why is this? Sakuta's theory is that it's Adolescence Syndrome. It's essentially a syndrome where an adolescent can make things manifest through strong emotions. After Sakuta's younger sister was cyberbullied mercilessly, she showed wounds on her body as if someone had physically hurt her. Mai felt abused by her mom/manager in her acting days, and are her feelings somehow making people no longer see her after all those years of being so famous?
There's some fanservice in the story of Rascal Does Not Dream of Bunny Girl Senpai, as demonstrated by Mai's original bunny outfit, but not as much as you might expect. The story mostly takes itself pretty seriously. It gets into the difficulties of adolescence, the hurt of cyberbullying, and the way people will believe whatever they want, despite evidence. It even brings in talk about Schrödinger's cat as a comparison to Mai being there yet not being there. Characters have unique personalities and grow as people, and Sakuta, who is initially shown as being smart-mouthed, is revealed to have a real heart under his attitude.
Yen Press is publishing this manga series in the omnibus format, with two volumes per book. They're also releasing the original light novels off which the manga is based. The success of this franchise has also spun off into an anime series and an anime movie. The quirky premise, likable characters, and authentic adolescent fears all contribute to why it's so popular. 
Original Story: Hajime Kamoshida
Art: Tsugumi Nanamiya
Character Design: Keji Mizoguchi
Publisher: Yen Press
_____
Danica Davidson is the author of the bestselling Manga Art for Beginners with artist Melanie Westin, and its sequel, Manga Art for Intermediates, with professional Japanese mangaka Rena Saiya. Check out her other comics and books at www.danicadavidson.com.