Police Go After Man Selling Unauthorized Demon Slayer Mask Covers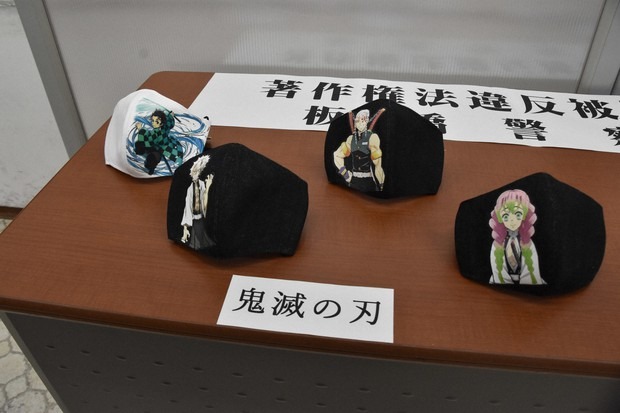 A 66-year-old Japanese man might be in hot water for selling mask covers with images of characters from Demon Slayer and Jujutsu Kaisen. A police officer stumbled across the case while doing cyber patrol, and then looked further into the situation.
Police believe that the man was selling these mask covers on online auctions. Images on his mask covers include Tanjiro Kamado and Mitsuri Kanroji from Demon Slayer and Yuji Itadori from Jujutsu Kaisen. The problem is that he's allegedly done all of this without working with the franchises themselves, so he's violating their copyrights.
The police say that the man has confessed and told them, "I thought many people would buy them if I used popular characters."
They think he made the masks in his own home. From April 2020 to July 2021, police believe he made 300,000 yen (which is about $2,600) off these mask covers. Yesterday he was referred to prosecutors. His name was not given publicly, and the report said that he works part-time and lives in Mishima, Shizuoka Prefecture.
There has been debate about unauthorized products of anime and manga franchises, especially if they're fanmade, and especially if they're something like cosplay, where the person isn't (potentially) making any money off of it. However, because this man appears to have been making an income, he wouldn't be able to argue it was all done out of a fan's love.
Demon Slayer and Jujutsu Kaisen are two of the biggest anime in recent history, especially Demon Slayer. In fact, Japanese business news outlet Toyo Keizai has reported that Demon Slayer's merchandise has made 900 billion yen, which is about $7.9 billion. That's only referring to official merchandise, and not the many knockoffs being sold. Publisher Shueisha has been working against knockoffs.
Source: The Mainichi
___
Danica Davidson is the author of the bestselling Manga Art for Beginners with artist Melanie Westin, and its sequel, Manga Art for Intermediates, with professional Japanese mangaka Rena Saiya. Check out her other comics and books at www.danicadavidson.com.