Pokémon Heartgold/Soulsilver
I'll confess right now: I never played the original version of Pokémon Gold and Silver, and my reasons for not doing so are phenomenally dumb. I was super pumped for Red and Blue when they came out back in the day, but got hung up on playing them because I am an obessive dork who wants to keep all her RPG party members evenly leveled. Multiply this tendency  by 151 potential party members and you have something I eventually had to give up mid-game to retain my sanity. It wasn't until years that I learned that not only was leveling all the caught Pokémon totally unncessary, but completely insane. So years later, here I am, playing Pokémon Gold and Silver for the first time, and loving it as just much as I'm sure I would have 10 years ago had I not been consumed by my silly nerd neuroses.
I'm sure we all know the concept behind Pokémon by this point, so let's just cut to the chase—how is this game different from the previous releases of Diamond/Pearl/Platinum on the DS from years back? For starters, there's the change of locale: you're exploring an area called Johto which is roughly based on Japan's Kansai region. Much as you would see in different regions of the US, the Pokémon wildlife here is different from areas in other titles, making collecting, battling, and cataloging the critters a different experience. You can trade you Pokémon back and forth with the other DS games, as well, making it easy and enjoyable to amass an army of exotic wildlife. Cities, characters, and story (as much as the plot in any Pokémon game is "people want to do bad things using Pokémon powers so go stop them") are unique to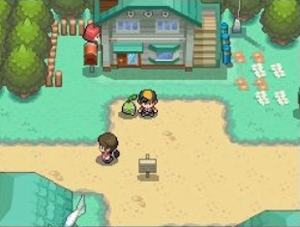 HG/SS, as are gameplay elements like the multi-purpose Apricorn fruits and the Pokéathlon mini-game collection. Controls are also newly optimized for stylus use, with the entire bottom screen of the DS occupied by a menu that can be acessed at almost any time for extra convenience. Having not played the original games, I can't offer up a comparison of the old and new versions, though I can certainly say that Whitney's Miltank lived up to all the horror stories I'd heard over the years.
The thing about Pokémon is that it's hard to really find fault with the games – this is a formula that's been fine-tuned for almost fifteen years now, and the continued popularity of the series shows that the various optimizations have been working out well. Most of the complaints one can levy toward HeartGold and SoulSilver are simply things the game could do better:
it'd be nice if you could actually walk at a speed faster than molasses before you get the running shoes, or if the need to waste a slot in your active Pokémon roster for a creature that is essentially a work mule to use HM moves to clear the field could be negated. In fact, there's only one really big disappointment in HG/SS: The much-vaunted Pokéwalker device.
The Pokéwalker is a small pedometer that ostensibly lets you level up Pokémon and increase their strength and abilities outside of the game. In reality, its functionality is extremely limited: Pokémon can only improve by one level every time you put them in the device, you can't pick up any new skills, and forget entirely about advanced-level training like Effort Values. You simply walk with the device in your pocket to earn "Watts," which can be spent trying to find other Pokémon to battle and capture (in dumbed-down combat that comes down to a simple guessing game), hunting for items (in another insipid "guess where" mini-game), or transferred back to the DS to unlock new "routes" for the Pokéwalker. (It's been well publicized that you'll need to walk about 1,000 miles just to unlock all these routes, so get those sweatbands ready.) For as interesting as the device was promised to be, its execution is weak, and I'd say it's a disappointment for the $10 premium it adds to the package.
Overall, though, HeartGold and SoulSilver are exemplary of what makes Pokémon such a beloved and enduring formula: cute critters, suprisingly in-depth combat, and the childlike glee of exploring and finding new things. It's a good place to start if you're new to the thrill of catching them all (or simply haven't taken out your Pokéballs in years), and a must-have for any longtime Pokéfan.
Publisher: Nintendo
Developer: Game Freak
System: Nintendo DS
Available: Now
Rating: E