Ping Pong: Nothin' But Love
Sit back and take a long, hard look and you'll see we're living in a pretty swell period for anime. Each season has had at least a few standout shows, both new and recurring, one of which involved Mind Game director Masaaki Yuasa returning to television. Yuasa has had a good year or so in general—from the successful Kickstarter campaign for his Kick-Heart short to the recent episode of Adventure Time he wrote, storyboarded, and directed—the climate seems just about right for supporting someone of his exceptional but somewhat under-the-radar talent.
That brings us to Ping Pong the Animation, which adapts Taiyo Matsumoto's manga that originally ran in Shogakukan's seinen magazine Big Comic Spirits from 1996-1997. This isn't the first time Ping Pong has been brought to life. Fumihiko Sori directed a solid live-action film (the best of his career, really) back in 2002, and if you've seen that then you'll recognize some of the major beats—and even a few of the quieter moments—in Yuasa's explosively colorful and lovingly crafted anime.
This Tatsunoko Production series is about as close as anyone could ever hope to get to faithfully animating Taiyo Matsumoto's art. Ping Pong looks like one of his comics in motion, but don't get that statement confused with the stiff term Motion Comic. Ping Pong features lively animation that doesn't desperately attempt to stay in line, and Yuasa liberally implements split-screen to great effect. Frames freeze as images litter the screen, creating tension in some places and cleverly dictating the rhythm of a ping pong match in others. Characters go from average height to towering giants when the right moment calls for it, and sometimes they just burst into simple black lines that render everything around them meaningless.
Ping Pong's story centers on high school boys Peco (AKA Yutaka Hoshino) and Smile (AKA Makoto Tsukimoto), the latter of whom is jokingly dubbed so because he never smiles. Their friendship developed over ping pong, and now they find themselves at an interesting, but potentially divergent, point in their lives. Smile's talent is soaring while the more braggadocious Peco hits a major rut that causes him to temporarily abandon the sport he loves. Meanwhile, competition is heating up, rivals are flying in from outside of Japan, and it looks like Smile might end up being the only member of Katase High's table tennis club that can give any of them a run for their money in the championships.
Okay, seriously, at this point I should just tell you to watch Ping Pong. Well, finish reading this and then go watch it, and THEN read Daryl Surat's full review of the anime in the latest issue of Otaku USA. The main point here is that Yuasa nailed Matsumoto's style, and that's no small feat. Taiyo Matsumoto is unlike any other creator in manga in that he manages to depict youth in an especially sincere way. He does it in Ping Pong, he does it in Sunny, he does it in GoGo Monster, and he most certainly does it in Tekkonkinkreet, also known as Black & White. Unfortunately, as far as I'm concerned at least, director Michael Arias wasn't able to properly bottle that electricity in 2006 when he turned Tekkonkinkreet into an anime film—produced by Studio 4ºC no less, where Masaaki Yuasa directed 2004's Mind Game.
I'm not implying that Arias didn't "get it" when he made Tekkonkinkreet, just that it's not easy. The fact that Ping Pong the Animation hit the mark is more a testament to Masaaki Yuasa and his staff than an insult to anything that didn't quite do so before. With little exception, though, the bulk of Matsumoto's body of manga work should probably stay just that. Ping Pong is a rare success story, and you should celebrate its golden run by sitting down with a pile of as much Matsumoto as you can handle and a straight hit of all 11 episodes of this stellar, masterfully executed anime.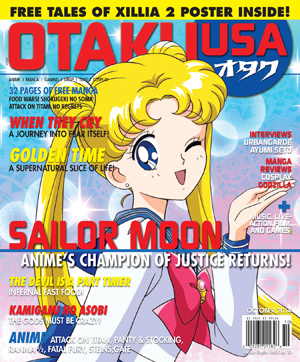 Read Daryl's review of
Ping Pong
 in the October 2014 issue of
Otaku USA Magazine
. On sale now, it also includes in-depth coverage of
Sailor Moon
, 
When They Cry
,
Golden Time
, and more of your favorite anime, manga, and games.
Buy it from our online store, or subscribe to get every issue!
---
Related Stories:
– Noitamina Interviews Ping Pong Director Masaaki Yuasa
– Kick-heart Tokyo Premiere Review
– Kick-Heart Staff Interview
– Kick-Heart Anime L.A. Interview