10 Years of Otaku USA! A Look Back at How It Began
Ten years ago, the very first issue of Otaku USA (August 2007 cover date) went on sale in a world that was very different from the one we inhabit today. But how did it all happen? Read below as the staff remembers.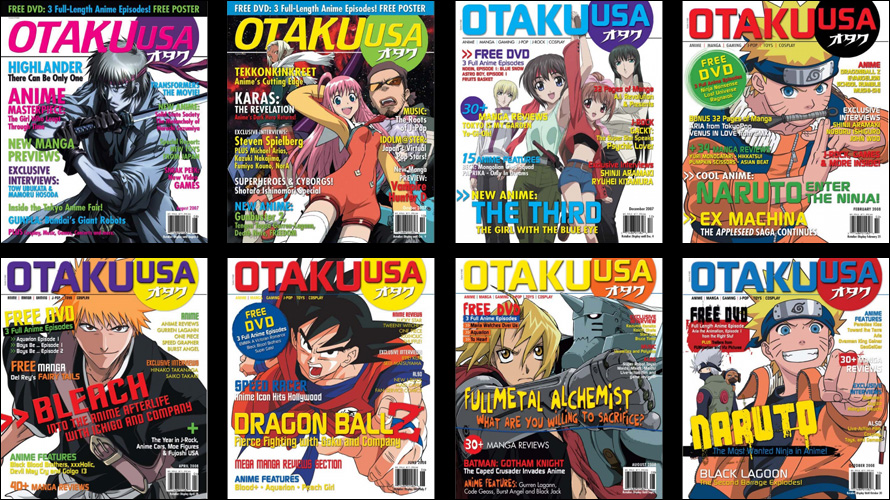 Mark Hintz (Chief Executive Officer, Sovereign Media, Publisher):
Before Otaku USA, we published Sci-Fi Entertainment, the official magazine of the SyFy channel (in fact, we still do!). Back then, Sci-Fi Entertainment started to get advertising from some of the publishers and distributors selling anime and manga in the USA. By coincidence, one of the major book publishers in New York contacted us with the idea of starting some type of manga magazine for the US, publishing the works of American manga creators only. Although that idea never panned out for us, we were really impressed that the market for anime, manga, cosplay, and J-pop in general really seemed to be expanding. We thought the US market needed an anime and manga magazine all its own.
Patrick Macias (Otaku USA, Editor in Chief):
In early 2005, I quit my job at Viz Media in San Francisco, where I had been working as an Assistant Editor at Animerica magazine. I spent about a year afterwards living in Tokyo, working on a few book projects, and just generally bumming around the city, which was then in the middle of an "otaku" renaissance, mostly centered around the Akihabara district. I had some money I'd made from helping out on a Hollywood film (The Grudge, if you really want to know), so I lived off that for a while, but eventually, I needed another regular gig. In summer 2006, I saw an ad from some folks on the East Coast looking for an editor for an "Anime/Manga/Gaming" magazine, which sounded like something I could do, and would want to do, so I sent over my resume and crossed my fingers. A few days later, Mark and (Editorial Director) Carl Gnam from Sovereign Media contacted me and we seemed to get along ok. Once it was clear that I had the job, it was knuckle-down time. Making a new magazine from scratch was not something I had done before, so I began reaching out to people in my network…
Low key the most expensive Otaku USA cover ever. Don't ask.
Joseph Luster (Otaku USA Editor/Games, Website):
After Animerica magazine shut down, it continued operating for a while as a tiny little free magazine you could pick up at your local Best Buy. I worked as the news guy for that for a while, and, as far as my time-addled memory recalls, it wasn't too long after that I heard about a new print endeavor from Patrick.
Jason Thompson (Otaku USA, Editor/Manga):
At the time, there wasn't much out there like Otaku USA. VIZ's Animerica magazine had dominated the field in the 1990s, and I knew many of the writers, but VIZ made the corporate decision to close it and focus on content publishing a few years prior. There were other magazines out there, but Protoculture Addicts was small and hard to find. Newtype Magazine was big and glossy, but rumors swirled that their coverage was constrained by the Japanese Newtype's editorial board.
Patrick Macias:
In 2006, the anime DVD market in the USA was still alive and well, but it felt like manga was then the real success story. You couldn't go into a chain bookstore without seeing kids planted on the floor reading volume after volume of manga. It was crazy. Fan culture was really beginning to take off online, as well. Podcasters and bloggers were beginning to review anime and manga with a lot of personality and humor that I felt was missing from print magazines and the major websites. So in addition to gathering up ex-Animerica staff that I really wanted to work with again, I started looking for people who I felt would be interesting to read, even if they weren't all that experienced as writers. A lot of our original contributors, like Mike Dent, Erin Finnegan, and Daryl Surat were mainly known then as podcasters. I thought that as long as we had strong personalities onboard, then the rest of the magazine would fall into place.
Daryl Surat (Contributing Writer):
By 2007 the Anime World Order podcast we'd started was in full swing. We differed from other anime podcasts around back then since we reviewed entire series instead of individual episodes plus classic works from decades past, while also occasionally interviewing fan personalities we thought interesting. One of them was Patrick Macias, whom I'd previously met at an anime convention and hit it off with due to the fact that I showed clips from a lesser-known tokusatsu series Cyber Cop during a panel. So, when the idea for Otaku USA came about, Patrick got as much of the old Animerica band back to handle editorial and pinged us for writing duties. I roped in other anime, gaming, and tokusatsu podcasters I was listening to while I was at it.
Free DVD! 2008 issue featuring Death Note
Jason Thompson:
I'd just finished an encyclopedia of manga reviews, so writing for Otaku USA was a natural decision. I missed the camaraderie, independent coverage, and good writing of the old Animerica, and I was excited about the opportunity to work on a new magazine that might recapture some of the same feel… or better. Also, how could I ever pass up an opportunity to write about manga and get paid for it?
Joseph Luster:
I was excited about Otaku USA. New print endeavors, while risky, are always a thrill. There's a combined thought of "let's make sure we don't mess this up" and "we can do ANYTHING we want!" that really gets your juices flowin'. Also, while I was thrilled to continue writing about anime and manga professionally, I was REALLY excited about editing the video games section. Ever since I picked up my first issues of Nintendo Power, Electronic Gaming Monthly, and Gamefan that's pretty much all I've wanted to do.
Patrick Macias:
When I first started to talk to Sovereign Media, there was no name yet for the proposed magazine. It was just referred to internally as "J-Pop magazine" or something like that as a placeholder. The word "otaku" was still kind of disreputable in Japan, where it had negative connotations, but lots of American fans were increasingly comfortable using it as sort of a badge of honor; labeling themselves as passionate fans of Japanese pop culture (Eric Bresler's 2004 documentary "Otaku Unite!" really captures this moment in anime fandom). Most "normal" people didn't know what the word "otaku" meant at all, and that was fine. I didn't want to make an anime-manga magazine for casual folks. Our writers lived and breathed in the deep end, and we wanted to reach readers who were already in there with us. So I deiced to name the magazine "Otaku USA." The publisher was okay with that and generally just accepted all my editorial decisions. Sovereign Media was really experienced with making print publications, and getting good distribution for them, so I guess we just let each other do our things.
Shoko Nakagawa with a 2008 issue of Otaku USA
Mark Hintz:
In the summer of 2007, we launched OTAKU USA as an oversized, big, brash magazine covering the entire world of manga, anime, cosplay and J-pop for American otaku. We included a DVD with full-length anime in the first several issues and sold for $10 bucks, but technology quickly killed the need for the DVD, so we took it out of the package, and decreased the price to $5.99, and we started the Otaku USA website.  
Patrick Macias:
There are so many dramatic changes we've weathered since our first issue in 2007… … the book store market collapsed, anime DVDs and Blu-ray sales began to decline, and new streaming sites like Crunchyroll began to reshape the market and fan culture by offering anime simulcasts. I think any one of these could have had the potential to sink the magazine, but we've managed to somehow keep holding on thanks to our publisher, contributors, advertisers, and (most of all!) readers. We've tried to do some new things: like the website, the digital version of the magazine and spin-off Anime USA magazine, a Cosplay USA one-shot, and dipping our toes into anime conventions. But I think keeping the brand sustainable and not overreaching has helped a lot in keeping it alive.
We get letters all the time from people that say that they don't have any other friends who like anime and manga where they live so Otaku USA is their only connection to fandom. We've gotten letters from people in prison and people deployed as soldiers overseas who say the magazine helps get their minds off their problems. There was even an Otaku USA wedding… two people met at the bookstore over an issue of Otaku USA and wound up falling in love. They took a photo at their wedding where everyone has an issue of our magazine in their hands.
Joseph Luster:
I think print media always has a positive impact on the hobby in question. Sure, you can get more information and opinions than you'll ever need online, but there's something special about holding it in your hand. There's a certain level of pride that comes along with, say, reading about what you dig in public; making connections with other fans in person.
Ani-Mia models the official Otaku USA T-shirt
Ani-Mia (Otaku USA, Cosplay Columnist):
I discovered the magazine in my search for a way to get news about anime overseas. I was so excited to find such an amazing resource because they were slowly falling out at the time. The fact that it continues to thrive to this day is a testament to the fantastic team behind it. I'm so excited to bring cosplay news, information and inspiration to the magazine and hope that it will become a resource for cosplayers everywhere.
Daryl Surat:
While a lot of the editors carried from the old Animerica guard and can thus never be surpassed, a great deal of the podcasters I roped in ended up moving up (or on) to a variety of positions in and around the anime industry.  They started running convention panels and staffing anime conventions. A few got gigs at Crunchyroll, helping not just to build up their news service but the platform itself. Several became online columnists as well as magazine contributors, both through starting their own websites and contributing to existing ones. All of those are key contributors to the rise in acceptance for long-form, more in-depth anime discourse which has a sustainable audience alongside the ever-expanding "hot take video" approach. Print media has space limitations that online doesn't, but you have to go actively seek out online resources. You have to already know that's what you want. Because of where we're carried, we're able to at least get to an audience of people who like anime and manga but want to know more, then guide them along the way. The other North American anime magazines have all folded, in large part because what was in their pages wasn't different enough from what could easily be found online for free. We must be doing SOMETHING right!

Postscript: While compiling this article, we found out that the couple who met at the store while reading Otaku USA recently gave birth to their first daughter. Say hello to Penélope!